Kung Fu Dunk
(2008)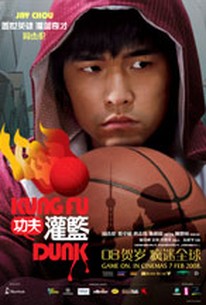 AUDIENCE SCORE
Critic Consensus: No consensus yet.
Movie Info
The story of a Chinese basketball star.
Critic Reviews for Kung Fu Dunk
There are no critic reviews yet for Kung Fu Dunk. Keep checking Rotten Tomatoes for updates!
Audience Reviews for Kung Fu Dunk
This kung fu sport film follows the same route as one of HK's biggest movie in Shaolin Soccer, but the results is totally another story. While the aforementioned flick starred the arguable the biggest Hong Kong superstar, Kung Fu Dunk have Taiwan's own favourite son in singer turned actor, Jay Chow. Combining kung fu with sports is no longer something new and the result providing the audience with an average mindless entertainment. While Shaolin Soccer is a classic three act underdog story, Kung Fu Dunk goes like a roller-coaster rides but without the thrills in between. Sure, some fun can be had and the duo chemistry in Eric Tsang and Jay Chow is even at times touching, but this is by no means a great movie at all. Jay Chow is a stoic actor and in other words he is like a piece of wood. His face is expressionless and while he once claimed that he wanted to be become the next Jet Li, it is fast becoming more of a dream than reality. Charlene Choi also appears in the flick, but in the end, she really has nothing to do other than look cute, promote that style of glasses, act cute and be cute.
Dean McKenna
Super Reviewer
½
Yen-ping Chu's Kung Fu Dunk, which is based off of concepts from the Slam Dunk manga and Stephen Chow's Shaolin Soccer, is not totally original, but it is good enough to see once.
It shouldn't come as a surprise that the plot is just flat out weak. Scenes just come and go and nothing seems to have purpose until the ending, when it comes down to winning a basketball game.
Now, onto the good stuff. The kung fu and the dunk. The basketball is all over the top wire dunking with the occasional 3 point shot thrown in. It really feels like watching a live action version of the video game NBA Jam, except with more people on the court. The martial arts and CG is also pretty good. One minute there is basketball and the next there is martial arts in the middle of the court. Hence, Kung Fu Dunk.
There isn't much to the acting. Jay Chou is believable with the marital arts and his actions are humorous. Charlene Choi finds herself with a more serious role. This is a little surprising, because this is a comedy. It doesn't matter anyway, since the film isn't all that funny. Eric Tsang is pretty annoying and there isn't much to say about anyone else.
Kung Fu Dunk is a 95 minute sports comedy for people that enjoy over the top senseless entertainment. Some may enjoy it and others may not. At least there is a catchy hip-hop theme throughout.
½
A great Asian movie about mixing Kungfu and Basketball... This movie was so cool... Jay Chou shows again his great acting... He is really the brightest young actor in the Asia right now... The basketball play was pretty cool.. They have great impossible move... Love that... And the story, it's funny.... The song, Jay Chou is really a talented one... And the effects when Shi-Jie freezing time, it's so damn cool... Really needed to watch it again because the subtitle wasn't right...
Sanjaya 丘耀文
Super Reviewer
Kung Fu Dunk Quotes
| | |
| --- | --- |
| Shi-Jie: | "That's when I realized ... basketball's not just about dunking. It's also about teamwork." |
| Shi-Jie: | That's when I realized ... basketball's not just about dunking. It's also about teamwork. |