Kurbaan
(2009)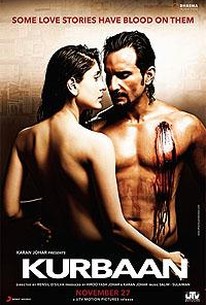 AUDIENCE SCORE
Critic Consensus: No consensus yet.
Movie Info
Directed by debutant director Rensil D'Silva (who co-wrote Rang De Basanti) "Kurbaan" is a romantic thriller set against the backdrop of terrorism. The film stars Saif Ali Khan, Kareena Kapoor, Vivek Oberoi, Dia Mirza, Kirron Kher and Om Puri.
Critic Reviews for Kurbaan
All Critics (2) | Top Critics (1) | Fresh (2) | Rotten (0)
This has to be applauded for exploring a topical and sensitive subject in the widest commercial context. Interesting, entertaining and solidly executed.
A chilling yet appropriately tempered and charismatic antidote to your archetypal seasonal fare, Kurbaan is a gripping white knuckle ride that turns at all the right places for the ultimate thrill ride.
Audience Reviews for Kurbaan
Highly captivating! Avantika first meets Ehsaan while trying to hail a cab on a Delhi street. Later, they are formally introduced at work where they are both university professors. Ehsaan is determined to woo, and pursue, her at every venture but she remains reluctant. At the insistence of her friend/co-worker, she decides to let her guard down, and take up his offer of chatting over a cup of coffee. Their bond forms, and a relationship ensues. After getting the blessing of her father, the two marry and decide to leave to the U.S. where Avantika will resume her teaching duties. After settling into their new home and married life, Avantika and Ehsaan meet their new neighbors. Avantika meets a defiant Salma amidst a group of housewives that are devoted to staying at home, and abiding the wishes of their husbands. Her brief conversation with Salma enables her to discover the truth about her neighbors, and her husband. With the help of Riyaaz, she must stop this small group from trying to create a similar reaction, and fate, from that of 9/11. Great song- Shukran Allah. Directed by Renzil D'Silva, and produced by Karan & Hiroo Yash Johar. Great cast- Kareena Kapoor, Saif Ali Khan, Om Puri, Vivek Oberoi, Kirron Kher, and Diya Mirza. Worthy!
This movie was really good. I detected a little bad acting from a couple of the cops, but the rest of the Hindi actors that the movie was based around did a very fine job. This movie kept my attention the entire 2 1/2 hrs, even though the length worried me at the start. There was enough tension and intrigue to make the time just fly by.
Cynthia S.
Super Reviewer
Awfully pathetic movie. The plot was extensively similar to that of New York, not a frame-to-frame rip-off obviously, though (I specified this coz one of the critics mentioned that there's only one similarity between this & New York, & that's that they both deal with terrorism in US). While New York was no masterpiece, it was easily bearable & also a bit entertaining venture compared to this crappy torturous disaster. Though the actors did a commendable job, there was hardly anything they could have done (obviously, besides opting for not signing the movie) to lessen the boredom of the movie. Quoting Karan Johar: "so my favourite films of the year are kaminey,dev-d,3 idiots,paa...not included wake up sid and kurbaan as they are our films..." Having seen Kurbaan, I now find it safe to assume that Kurbaan being his own production wasn't the only reason for him excluding it from his list of favorite movies last year. He may have included it among the worst movies of 2009, though. Well, at least, I for one surely consider it to be so.
familiar stranger
Super Reviewer
Kurbaan Quotes
There are no approved quotes yet for this movie.