Kya Love Story Hai
(2008)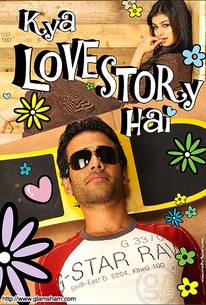 AUDIENCE SCORE
Critic Consensus: No consensus yet.
Movie Info
The Bollywood romantic drama Kya Love Story Hai witnesses the complications that befall Arjun (Tusshar Kapoor), a former architecture student who sank into a ne'er-do-well lifestyle and now whiles away his free hours indulging in drunken revelry and fritting away what little money he has with his libidinous buddies. His life turns a sharp corner when he falls headfirst in love with the gorgeous Kajal Mehra (Ayesha Takia). Alas, she insists on courtship and marriage to a fiscally affluent suitor, and this Arjun is not. Complicating matters is the fact that Arjun feels too cowardly to ever confess his feelings to the young woman. Saddened, he heads off to make a name for himself, but in the mean time, Kajal meets and becomes engaged to another man. Arjun then returns and must drum up the courage and resolve to pour out his heart and win the girl over. ~ Nathan Southern, Rovi
Audience Reviews for Kya Love Story Hai
Good movie. Here is a fairly well story plot that follows the lives of two individuals, a man and a woman. They meet, and quickly become friends. Soon after, one falls for the other but the other isn?t in love. Kajal and Arjun meet, and instantly are friends when Arjun realizes that he is in love with Kajal. On the other hand, Kajal isn?t in love at all. She openly admits the qualities of her ideal man. Sadly, Arjun doesn?t fit the criteria and decides to become successful. Enters Ranveer, he is everything Kajal wants in a true love. Arjun returns, and is too late. Kajal and Ranveer are engaged. This leaves Arjun heartbroken, but then he decides to accept his friend?s engagement. As the two re-connect, Kajal and Arjun begin to realize that they are falling more in love. Tusshar Kapoor and Ayesha Takia stars. Worthy!
Kya Love Story Hai Quotes
There are no approved quotes yet for this movie.