La Chinoise
(1968)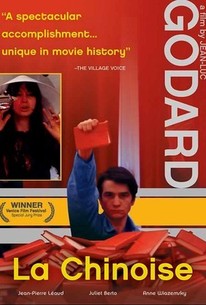 Movie Info
Director Jean-Luc Godard, whose advocacy of Maoism bordered on intoxication, infuriated many traditionalist critics with his swiftly paced satire La Chinoise. Godard's then-wife Anne Wiazemsky plays a philosophy student who commiserates with the four members of her campus Maoist group. They are so taken by the external trappings of their cause--the posters, the Little Red Books, the by-rote chantings--that they seem not to grasp the true meaning of their political persuasion. Nor do they give any thought to the long-range ramifications of their terrorist activities. Godard is obviously on the students' side throughout, though he balances their fanaticism with the comparative gentility of old-style revolutionaries. Nonfans of Godard were given migraines by the director's perverse refusal to film even the simplest sequence in a linear, logical fashion. La Chinoise quickly gained the reputation of a "head film", best appreciated when the viewer is stoned. In these PC days, the audience for this sort of film is generally "straight"...which may be why it has seldom been shown in recent years. ~ Hal Erickson, Rovi
Critic Reviews for La Chinoise
Audience Reviews for La Chinoise
One of Jean-Luc Godard's most bluntly political works, "La Chinoise" is not easy to watch. The characters recite speeches and quotes more than they "act," and the film is so packed with harsh edits and two-layer dialogue that watching it may require a few rest breaks. Furthermore, people not fluent in French (this includes me) will be handicapped because the subtitles do not adequately cover all the overlapping talk, radio announcements and handwritten text that flood the frames. (Suffice to say that walls and blackboards are never wasted if they present an opportunity to display slogans or lecture notes.) At first glance, "La Chinoise" comes off like a movie about ideology alone, where actors only serve to deliver Godard's agitprop rather than to exist as personalities. But eventually, a sense of narrative emerges. The story -- loosely based on Dostoyevsky's novel "The Possessed" -- centers on a small group of student radicals who share an apartment. They are financially comfortable and a bit sheltered from the real world, and this inexperience is crucial. Their passionate exchanges of Marxist/Maoist doctrine and complaints about society initially seem presented as weighty truths, but the students' naivete is more than evident by the film's end. Godard's own position remains ambiguous -- he seems to crave the oft-discussed socialist revolution, but just doesn't trust these kids to lead it. Jean-Pierre Leaud and Anne Wiazemsky (Godard's one-time wife) are engaging in difficult roles, while the shots are attractively overloaded with primary yellows, blues and (especially) reds. Notable elements include an extended train dialogue between Wiazemsky and philosopher Francis Jeanson, a botched assassination, a catchy Marxist pop song, novelty guns that transform into radios and movie cameras, Leaud's depiction of international policies via a table of country-themed sunglasses and Juliet Berto's comic portrayal of a Vietnamese peasant attacked with toy planes. Copies of Mao Tse-Tung's "Little Red Book" are absurdly piled everywhere, and of course Godard inserts plenty of clapboard shots and jarring photo stills to prevent anyone from becoming too comfortable.
Eric Broome
Super Reviewer
So it's a satire? I struggled to understand what this film is about throughout most of the ninety-five minutes, and I blame part of my struggles on my own ignorance: I don't know the time, the political climate, or Godard well enough to have any context. What I do know is that this film is remarkably hard to watch. It's either too-deft satire or preaching with the fervor that would make a Baptist minister blush. It's either a disjointed film in the tradition of Brian De Palma's Hi, Mom or so post-structural that even Jacques Derrida is screaming, "What the fuck?" Either way, what I said about Masculin Feminin is not true here: though it is jumbled, it is not ultimately compelling. Rather, its effect is repelling.
Jim Hunter
Super Reviewer
Very funny piece about a bunch of students who sit around debating Mao and trying to figure out how to start a revolution. Change Mao for Trotsky and you could be making a film about my youth.
John Ballantine
Super Reviewer
La Chinoise Quotes
There are no approved quotes yet for this movie.