Lady Macbeth
(2017)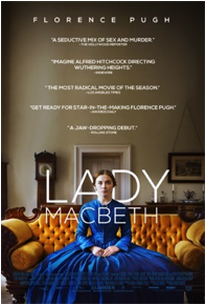 TOMATOMETER
AUDIENCE SCORE
Critic Consensus: Lady Macbeth flashes some surprising toughness beneath its period exterior, bolstered by a mesmerizing -- and unforgiving -- central performance by Florence Pugh.
Movie Info
Rural England, 1865. Katherine (Florence Pugh) is stifled by her loveless marriage to a bitter man twice her age, whose family are cold and unforgiving. When she embarks on a passionate affair with a young worker on her husband's estate, a force is unleashed inside her, so powerful that she will stop at nothing to get what she wants.
News & Interviews for Lady Macbeth
Critic Reviews for Lady Macbeth
Audience Reviews for Lady Macbeth
Florence Pugh is a revelation, delivering an astonishing performance in this tense, slow-burning period drama about a woman compelled by dark circumstances to act in questionable ways in order to survive an oppressive environment that would easily crush her otherwise.
Carlos Magalhães
Super Reviewer
As an avid period design geek, this year has been the jackpot for late 19th century-set films. If you've haven't seen Sophia Coppola's remake of The Beguiled, Terence Davies' biopic of Emily Dickinson A Quiet Passion, or my personal favorite, Robert Michell's remake of My Cousin Rachel, I would advise adding all of them to your watch list. That is, if you like dimly lit estates populated by stuffy-dressed women with English accents. All of these films carry prominent themes of female repression, oppression, and empowerment. Lady Macbeth deals with these themes in a similar but much more cavalier manner. Of course, her motivations stem from her being trapped in a loveless marriage with an impotent husband and his abusive father. In the form of a stable boy, she finds her liberation. However, her liberation is only the tipping point of her more repugnant nature. The victim becomes the abuser, and, like the Shakespearean character with whom she shares a name, she sheds her passive nature in a ruthless pursuit of power. Many will often complain that these types of period pieces are slow paced, but this one just flies by. Florence Pugh channels early Anthony Hopkins at times with her manic-to-meditative intensity, and each scene vacillates between a moving painting and crime scene. This is her movie, and she owns it from start to finish. It is a tale told by a sociopath, full of sex and murder, signifying a good movie.
K Nife Churchkey
Super Reviewer
Cool, calculating, impassioned, and razor-sharp in its shrewd storytelling, the period film Lady Macbeth is worthy of the title of Shakespeare's manipulative anti-heroine. Katherine (newcomer Florence Pugh) is recently married and expected to fulfill her wifely duties. Except her husband demands she stay inside and he also wants nothing to do with her psychically. While away, she strikes up an affair with Sebastian (Cosmo Jarvis), one of the servants hired to tend the estate. She finally feels desired but also free, able to do what she wants and without the stifling control of patriarchal forces. There are three impediments to Katherine continuing to enjoy her status and relationship, and each one requires another step into moral turpitude. Lady Macbeth does a very effective job of developing taut tension born out of its premise. Every plot point naturally leads to another, creating more frisson and conflict. It pushes an audience into an uncomfortable position of deciding how far their sympathies will align with our put-upon protagonist. The ending is fitting but will likely produce a lot of heavy sighs and foot shuffling out of the theater. Pugh delivers a star-making performance in a role we've seen often in nineteenth century literature, the oppressed woman yearning for autonomy of body and mind. However, this isn't an unrequited romance of furtive glances and pearl clutching, this is a meaty psychological thriller seeped in murder. Pugh expertly portrays a fascinating figure, a woman capable of cruelty to stake her claim in a cruel world. She commands the screen. A great reoccurring image is Katherine sitting on a settee and going through breathing exercises, as if to get into character for what she must do. Lady Macbeth (based upon the Russian novel Lady Macbeth of Mtsensk) is a tightly wound psychological thriller that brings a darker, absorbing carnality to the bonnet drama. Nate's Grade: B+
Nate Zoebl
Super Reviewer
Lady Macbeth Quotes
There are no approved quotes yet for this movie.
Discussion Forum
Discuss Lady Macbeth on our Movie forum!