Lake Placid 3
(2010)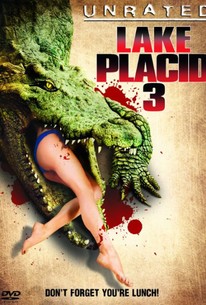 AUDIENCE SCORE
Critic Consensus: No consensus yet.
Movie Info
A game warden (Colin Ferguson) moves into his aunt's lakeside cabin with his wife and young son, and the little boy feeds the resident baby crocodiles until they grow up into monstrous predators that become a menace to the family.
Critic Reviews for Lake Placid 3
Audience Reviews for Lake Placid 3
Just when I thought it couldn't get no worst. Before the opening credits, a nice looking young man and woman take off all their clothes to swim nakedly and enjoy copulating. Unfortunately, during the latter, they are eaten by "Lake Placid 3" crocodiles. Almost a year since the passing of eccentric old Sadie Bickerman from "Lake Placid 2" (2007), the community has (again) been lulled into a false sense of security (and forgetfulness). A new group of crocodiles is looming in the lake. Arriving on the scene, and providing continuity, are Bickerman relatives. Instead of crazy ladies, we have a family. They are zoologist Colin Ferguson (as Nathan Bickerman), his realtor wife Kirsty Mitchell (as Susan) and their son Jordan Grehs (as Connor). He likes to feed the crocodiles... Like the previous entries, this sequel has a few strained story lines. In addition to the family, there is the hunter; this time it's a woman, scenery-chewing elk poacher Yancy Butler (as Reba). Leading the "young adult" group is handsome Mark Evans (as Brett) and his arousing girlfriend Kacey Barnfield (as Ellie). As expected, they are supported by mostly annoying college-aged youngsters, who make great crocodile bait. Bikinis and breasts are generously displayed. Versatile director G.E. Furst shows some promise, note how skillfully he introduces the father and son. There are also promising alterations in the "Lake Placid" formula. Unfortunately, and considering the resources, nothing lifts this shaky story above mediocrity.. Maybe its because 2 & 3 were filmed in Bulgaria, anyway 1 star 11-13-13 1 Star
Bruce Bruce
Super Reviewer
½
Imagine your I.Q. oozing out of your ears like the pus of popped pimple and you have some small idea of what sitting through this is like. I wondered about global problems and my own place in the grand scheme of things ... would the aliens finally arrive and find my shriveled remains fetidly decaying in front of a hunk of plastic and electronics with this DVD as my last will and testament? I shuddered as their screeching laughter filled my dank apartment. I did like Yancy Butler though.
Kevin M. Williams
Super Reviewer
Third entry in the Lake Placid series is yet an unimpressive rehash of old ideas. The film suffers from a bad execution of story. And a bad cast. I felt that by this point, the franchise didn't even try to do something refreshing. I also felt that Lake Placid should've been a stand alone film with no sequels. This is yet another failed attempt at cashing in on an original title. This a poor straight to DVD title and it shows. The film is lazy, and there's nothing creative about it. The film is a complete waste of time, and it doesn't have anything new or original. The film is standard straight to DVD crap, and it doesn't do anything to thrill the viewer. Lake placid 3 is a total piece of crap from start to finish, a poorly executed film with poor directing and acting, and above all, storyline. When looking for recycled ideas for a film, look no further than Lake Placid 3. This film is much uninspired and adds nothing new to a film that should never had any sequels in the first place. I hope they never make any more sequels to this tired out franchise, as the sequels were crap, and the first was average. A pointless and awful third film that everyone should avoid. A film not worth seeing. Stick with the first film, at least that one was entertaining, but this one suffers from a lazy scrip and poor acting, and it shows.
Lake Placid 3 Quotes
There are no approved quotes yet for this movie.