Late Bloomer
(2004)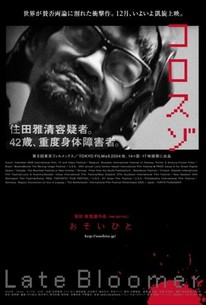 Movie Info
In Go Shibata's black-and-white DV feature, Late Bloomer, handicapped actor Sumida Masakiyo plays Sumida, a disabled man, wheelchair-bound, who seems to lead a simple life. He spends many nights drinking to excess, often with one of his caretakers, a musician named Take (Naozo Hotta), and his days sleeping it off, and wandering the streets. He frequently buys cheap plastic army men from a vending machine in his neighborhood. He always seems to be smiling, which might lead one to believe that he's a reasonably happy man. But there seems to be something unpleasant under the surface of his grin. Then Nobuku (Mari Torii), an attractive young student caretaker, arrives on the scene. Sumida quickly grows obsessed with the woman, who videotapes their encounters for a thesis project. One night, Nobuku accompanies Sumida to one of Take's concerts, and Sumida senses a mutual attraction between his two friends. This makes him jealous. Nobuku soon discovers that Sumida is not as sweet and harmless as he seems, but when she decides to stop caring for him, her pretty roommate Aya (Sumiko Shirai) arrives to take her place. Before long, Sumida's frequent violent fantasies become a disturbing reality. Late Bloomer was shown at the 2005 New York Asian Film Festival, presented by Subway Cinema.
Critic Reviews for Late Bloomer
Audience Reviews for Late Bloomer
There are no featured audience reviews yet. Click the link below to see what others say about Late Bloomer!
Late Bloomer Quotes
There are no approved quotes yet for this movie.