Late Marriage
(2002)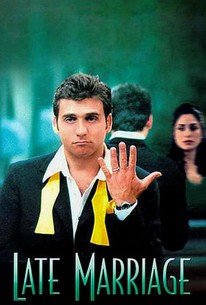 Movie Info
Set within the Georgian emigre community of Tel Aviv, a look at what happens when human beings get stuck between the rock of true love and the hard place of family tradition. Lily and Yasha are distraught that their 31-year-old son Zaza has not yet married. He is handsome, intelligent, and charismatic... So why no wife? Zaza humors his parents as they expound on the need for him to marry a young virgin (beautiful and from a good family of course) and suffers as they drag him to meet one "suitable" girl after another. But he is uninterested: In brazen disregard of his parents' strict Georgian tradition, Zaza is in love with Judith, a beautiful 34-year-old Moroccan divorcee. What's more, she has a six-year-old daughter. The family would never approve and he is determined to keep the affair a secret from them. Forced to choose between his familial obligations and his body-and-soul love for Judith, Zaza doesn't know where to turn.
Critic Reviews for Late Marriage
Audience Reviews for Late Marriage
Oh Lord! Someone compared this to My Big Fat Greek Wedding. I'm sure that Dover Koshashvili is having kittens about that comment. Another tale of a loveless marriage created out of tradition.
John Ballantine
Super Reviewer
½
An interesting movie! Set upon family honor and traditions, this follows the forbidden love between Zaza and Judith. Zaza comes from a close-knit family that wants nothing but the best for him to marry and begin a family of his own. Zaza abides the wishes of his family, and sets out to find a nice, respectable young woman to marry but earnestly tries to search for an ideal mate in each and every one. Despite the family choices, Zaza wants to start a life with Judith and her young daughter but the family heavily disagrees. Judith's former marriage and her age is one of several factors that causes a hindrance in their relationship. Great cast- Lior Ashkenzai, Aya Steinovitz, Ronit Elkabetz, and Moni Moshonov. Worth seeing!
½
Interesting look at ancient traditions in a modern culture and the damage they inflict on all involved. Lior Ashkenazi is excellent.
Late Marriage Quotes
There are no approved quotes yet for this movie.