Leatherface
(2017)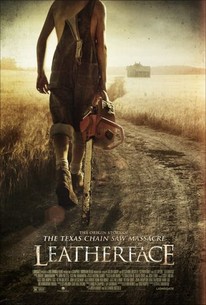 Movie Info
In Texas, years before the events of the Texas Chainsaw Massacre, in the early days of the infamous Sawyer family, the youngest child is sentenced to a mental hospital after a suspicious incident leaves the sheriff's daughter dead. Ten years later, the Sawyer teen kidnaps a young nurse and escapes with three other inmates. Pursued by authorities including the deranged sheriff out to avenge his daughter's death, Sawyer goes on a violent road trip from hell, molding him into the monster now known as Leatherface.
News & Interviews for Leatherface
Critic Reviews for Leatherface
Audience Reviews for Leatherface
Of all the horror franchises that are out there, the one that has been literally treated like a victim in its films is the Texas Chainsaw Massacre series. How many times has this series been rebooted, re-imagined, or recycled? That would be a daring assignment to figure out with probably no real satisfaction at the end, just a slippery slope into further mediocrity. And when you're about to land at the bottom of the barrel you do an origins film. Leatherface is a prequel to at least 2013's Texas Chainsaw 3D, a terrible film in its own right. Now why do I say at least? Mainly because I see listings that associate this with the films in the franchise from 1974, 1986, 1990, and 1994 (that being The Next generation, a film thrown in the trash until stars Renee Zellweger and Matthew McConaughey hit the big time). Who knows? The film follows a young Leatherface from his early days of getting a chainsaw and gutting a fella at his fifth birthday party, which is slightly more painful than a trip to Chuck E. Cheese. Eventually the Sawyer clan, led by the matriarch Verna (Lili Taylor) push their meat harvesting activities too far and end up killing the sheriff's daughter and the wee Leatherface is taken away to an asylum until he is old enough to do whatever he was going to do. I do wonder why none of the family members were arrested for the crime. We do a time jump and discover an asylum that is full of unscrupulous employees except for the new nurse Lizzy (Grasse). A riot breaks out and Lizzy is taken captive by Ike (Bloor) and Clarice (Madsen) as Jackson (Strike) and Bud (Coleman) go along for the ride. They go on a death race to nowhere while being chased by the same sheriff (Stephen Dorff) as we try to figure out which of these fugitives is going to wind up being the legendary killer Leatherface. Leatherface is your basic modern era horror film that tries to be coy with the reveal of who ends up being the legendary Sawyer, which is all this film has going for it. The characters are all boxed in stereotypes and the filmmaker's poor attempts at making a plot twist backfires horribly. It will be solved before they even leave the hospital. It's amazing how stupid characters can be written in a film and I understand that many of these individuals are deranged, but I don't buy the idea that has the concept of self preservation at one moment, but they don't at another integral scene. What makes this so difficult to understand is that these people act manic all the time, leading to a sort of cancelling themselves out. Even with the name Leatherface in bold letters to open the film, this is a poor paint by numbers horror film that is banking on the many past glories (and failures). I'm not big on reboots. I'm even less interested in origin stories, particularly with horror film icons. Rob Zombie made that mistake with his version of Halloween in that he gave us too much back story on the character of Michael Myers as opposed to Carpenter's approach of the mysterious Boogeyman (I'm not counting the sequels, but comparing Halloween to Halloween). Leatherface pulls the same mistakes by giving us not only a back story that eliminates the mystery that a man in a mask has, but manages to do it with some of the worst concepts I've seen in a very long time. Honestly, the opening birthday scene could have been taken out of an issue of Cracked or Mad magazine. It's totally ridiculous.
Chris Garman
Super Reviewer
½
An incredibly ugly and gruesome horror film, Leatherface is a needless prequel that accomplishes nothing. After being committed to a children's psychiatric hospital Jed Sawyer breaks out during a riot with three of his fellow patients who have taken a nurse hostage and are making a run for Mexico, and leading the hunt for their capture is a rogue sheriff whose daughter was killed by the Sawyers. The performances are rather underwhelming; even seasoned actors Lili Taylor and Stephen Dorff aren't able to do much with the material. And the violence is excessively gory and the tone is really dark. One of the worst entries in the franchise, Leatherface fails to reenergize the series or provide a satisfactory origin to this classic horror character.
Dann Michalski
Super Reviewer
Leatherface' is a moderately rip-roaring, pell-mell prequel which is also the eighth installment in the 'Texas Chainsaw Massacre' franchise and the first to be a mystery (albeit thinly veiled one) around who at the Gorman House Youth Reformatory will be the slaughterhouse butcher. The Platinum Dunes remake was an execrable nadir for the venerable horror series because it demystified the titular cannibalistic character with a soap-opera backstory of a bullied childhood and glimpses underneath his flayed-flesh mask. Therefore, it is salubrious to be apprehensive of another backwards purview into the inbred juggernaut's lurid history. Thankfully, this flick wallows in its retreat back to the low-budget roots (after a flirtation with an egregious 3D treatment in the previous film) and is exponentially more ensorcelling because of its extramural freshness to a dropsical 'Bonnie & Clyde' spree. Notwithstanding, the mania of the Sawyer clan's ocular close-ups (the mongoloid overacting by Leatherface's pubescent brother in a Confederate hat is also a misstep) is nowhere near as mortifyingly loopy as the Tobe Hooper classic. Much to our chagrin, French auteurs Julien Maury and Alexandre Bustillo quickly oscillate to a red Ford truck where a pair of nuzzling ignoramuses who thoughtlessly festinate after a youngster in a porcine-pig head. At that point, the film backslides into the slice-and-dice territory of its contemporaries because the victims are mindless pawns for the abbatoir. Meanwhile, Stephen Dorff's deranged Texas Ranger Hal Hartman is a rehased bromide and while R. Lee Ermey was the juicy spotlight of those Michael Bay abominations, Dorff isn't scenery-chewing enough and his role is a top-billed cameo. After a relatively insipid beginning at the farmhouse, the shift to the asylum escape (a wheelchair casualty is defenestrated forthwith) invigorates the film into vitality because of the throttling road movie chase aspect.
Cory Taylor
Super Reviewer
Leatherface Quotes
There are no approved quotes yet for this movie.