Léon Morin, Prêtre (Leon Morin, Priest) (The Forgiven Sinner)
(1961)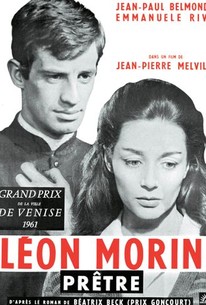 Léon Morin, Prêtre (Leon Morin, Priest) (The Forgiven Sinner) Photos
Movie Info
A richly contemplative saga of grief, this is the tale of a young war widow who is helped to work through her doubts and bitterness by a young priest.
Critic Reviews for Léon Morin, Prêtre (Leon Morin, Priest) (The Forgiven Sinner)
Audience Reviews for Léon Morin, Prêtre (Leon Morin, Priest) (The Forgiven Sinner)
½
Another wonderfully directed and filmed piece from Melville featuring top-rate performances from Belmondo and Riva. A wonderfully eerie and depraved setting set the tone of the morally challenging film and are beautifully captured by Melville and lived in by the actors. It's a very thought provoking film with many symbolic acts throughout that you may not even notice without referring to the commentary that is part of the Supplements. A great piece from wartime France that showcases the French Resistance and the way of life for the civilians. Highly Recommended, especially if you are a Melville fan!
Chris Browning
Super Reviewer
½
"Léon Morin, Prêtre" stands out in Jean Pierre Melville's body of work. Better known for his American style noir films such as "Bob le flambeur" and "Le doulos", "Léon Morin, Prêtre" comes between these but is not a crime drama, yet a thought provoking and intelligent film. Set in an occupied French town during WW2, with convincing period detail, Emanuelle Riva plays the widowed mother, who stumbles upon Jean Paul Belmondo's Catholic priest and over the course of the film starts to question herself. Melville here wears his Bresson influence on his sleeve and proves he can successfully stray from the crime drama. The fact that he chose two established stars also helped with the public point of view. The action, if you can call it that, is very much dialogue based, but the conversations between Riva's and Belmondo's characters are never boring, and between these talks we have quick glimpses of how people continued through everyday life under the Nazis. I'll just also mention the interesting cinematography with interesting shots and Henri Decaë's great photography.
½
[font=Century Gothic]In "Leon Morin, Priest," Barny(Emmanuelle Riva) has a crush on Sabine(Nicole Mirel), the office manager at the correspondence school where she works. Barny does not take the war seriously when the Italian army occupies the town but things get serious when the Nazis show up. So, she and some of her friends work together to get their children of Communists and Jews baptized. Otherwise, Barny has only ridicule for the Catholic Church and she decides to play a joke on one of the priests. But Leon Morin(Jean-Paul Belmondo) is not who she expects and speaks to her on her level. He is so winning in fact that Barny agrees to further instruction at the presbytery.[/font] [font=Century Gothic][/font] [font=Century Gothic]As rambling and episodic as "Leon Morin, Priest" is, it also contains a series of intelligent and witty dialogues on the nature of religion. In short, can there really be an atheist during an occupation? Morin is never totally just concerned with the spiritual, taking an interest in the temporal lives of his parishioners, even going so far as to suggest Barny get married.(Are they really talking about what I think they are in the following conversation?) This is at a time when the most common sexual activity is the casual contact everybody has with each other due to most of the young men being away from the village for one reason or another. However, I do think there is more to Barny's infatuation with Sabine than simply that.[/font]
Léon Morin, Prêtre (Leon Morin, Priest) (The Forgiven Sinner) Quotes
There are no approved quotes yet for this movie.