Leprechaun 3
(1995)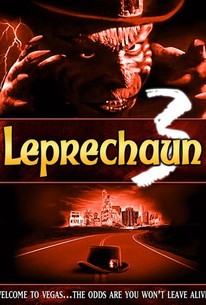 Movie Info
We've all heard of the luck of the Irish, but no one feels very lucky in Las Vegas when the Leprechaun visits Sin City in this, the third feature in the Leprechaun franchise. A Las Vegas pawnbroker buys a statue of a leprechaun from a hobo, but then makes the mistake of taking the gold medal hanging around the statue's neck. Turns out it's no statue after all, and taking away the charmed necklace brings the leprechaun back to life. The mean-spirited little man (played, once again, by Warwick Davis) kills the pawnbroker and sets out to find his pot of gold. However, he forgets that he's left behind a magic coin and when he returns to get it, he discovers it's gone, having been taken by a college student named Scott (John Gatins) who happened upon the shop. While the coin brings a bit of good luck to Scott, things change when he discovers he has a murderous leprechaun on his trail. Leprechaun 3's Las Vegas adventure was followed a year later by the even more unlikely Leprechaun 4: Leprechaun in Space.
News & Interviews for Leprechaun 3
Critic Reviews for Leprechaun 3
Audience Reviews for Leprechaun 3
What happens in Vegas should stay in Vegas, especially Leprechaun 3. In this adventure the Leprechaun heads for Sin City to wreak terror on those who come between him and his gold. The story is garbage, and seems to be made-up as it goes along. The acting is also incredibly bad, in an annoying, hard to watch kind of way. Even Warwick Davis isn't into it, as he seems to be reading off of cue cards or riffing on his own. Extraordinarily stupid, Leprechaun 3 is an atrocious low-budget slasher.
Dann Michalski
Super Reviewer
Leprechaun 3 is just as bad, and poorly constructed as the first two entries. Honestly the series should have been only three films. Unfortunately, there would be three more stupid, pointless and absurd sequels in this series. After two films dealing with a murderous leprechaun you'd think that three films would be enough. This third entry in the series offers little entertainment. The film suffers from a poor cast, poor acting poor directing. The comedic elements don't work, and it makes an irritating comedy horror flick. This is an odd film that tries too hard at being an effective comedy horror film. The humour is so over the top it's not even funny, it's tiresome, and it falls apart quickly. The film tries to do too many things at once and it just doesn't work. By third sequel, the Leprechaun franchise was already showing signs of scrapping the bottom of the barrel. This film third entry doesn't do anything interesting. The ideas are poorly expressed and the film is a vehicle of mediocrity. An awful comedy horror film, Leprechaun 3 misses the mark, and it's just another sequel in a franchise that never should have been. I'm all for cheesy horror, but there's something about these films that don't do it. Leprechau8n 3 should have been the last in this series, and this is yet another sequel that is stupid, poorly thought, one that doesn't do anything to really entertain. Once the notion of the killer leprechaun wears off, and it does, you realize these films really are a waste of time. Third film is like all the others, boring, stupid and dull.
Leprechaun 3 continues in a big location, making it pretty fun. Las Vegas is a great setting for a killer leprechaun movie. It allows the film to play with themes such as greed and temptation in an appropriate setting. The leprechaun is kept busy for a while as we are introduced to other characters. The film conjures up some new mythology and magic, keeping it fresh if a little contradictory to the films before it. Now leprechauns are like werewolves, as our hero starts to turn into one after a nasty bite. The real highlight is a partnership that really should be remembered as one of the great buddy acts. A loan shark and his heavy share such chemistry and warmth it is genuinely funny and endearing. A great continuation, even if the familiar parts drag.
Luke Baldock
Super Reviewer
Leprechaun 3 Quotes
There are no approved quotes yet for this movie.