Let The Fire Burn
(2013)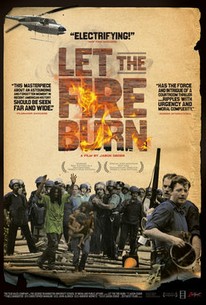 TOMATOMETER
AUDIENCE SCORE
Critic Consensus: Smartly edited and heartbreakingly compelling, Let the Fire Burn uses archival footage to uncover a troubling -- and still deeply resonant -- chapter in American history.
Movie Info
In the astonishingly gripping Let the Fire Burn, director Jason Osder has crafted that rarest of cinematic objects: a found-footage film that unfurls with the tension of a great thriller. On May 13, 1985, a longtime feud between the city of Philadelphia and controversial radical urban group MOVE came to a deadly climax. By order of local authorities, police dropped military-grade explosives onto a MOVE-occupied rowhouse. TV cameras captured the conflagration that quickly escalated-and resulted in the tragic deaths of eleven people (including five children) and the destruction of 61 homes. It was only later discovered that authorities decided to "...let the fire burn." Using only archival news coverage and interviews, first-time filmmaker Osder has brought to life one of the most tumultuous and largely forgotten clashes between government and citizens in modern American history. (c) Zeitgeist
News & Interviews for Let The Fire Burn
Critic Reviews for Let The Fire Burn
Audience Reviews for Let The Fire Burn
A documentary earlier this year on Mumia Abu-Jamal piqued my interested in and reminded me about MOVE, a radical organization that had clashed with the police in Philadelphia in the 1970's and 1980's. Along comes "Let the Fire Burn," a documentary that makes excellent use of and relies exclusively on archival footage, especially that of a hearing into the events of May 13, 1985 that left 11 members of MOVE dead, including several children, and a neighborhood destroyed, as city authorities increasingly let events spiral out of control. On the other hand, the format leaves room for some blind spots, namely the alley behind the MOVE headquarters where it is implied that Philadelphia policemen may have gathered to settle scores from a previous confrontation with MOVE that left a policeman dead and for which 9 MOVE members were convicted on sentences lasting decades. At the same time, three policemen were acquitted on assault charges of a MOVE member, even though they were captured on videotape. At first, in the 1970's, MOVE claimed to be a self-sufficient organization funded on self-defense means like the Black Panthers, as one of the founders had been in the Black Panthers, too, while being labeled a cult and terrorist organization by outsiders.(There is nothing so frightening to a racist than an armed black man.) Here, some more blind spots arise, as questions arise about the internal activities of MOVE, as they also angered their neighbors, and eventually the city government. Its later incarnation in 1984-1985 was even more combative, and I would not disagree with a commenter, that at the time, they sought to directly confront the police, a battle they could not hope to win.
Let The Fire Burn Quotes
There are no approved quotes yet for this movie.