Lethal Weapon
(1987)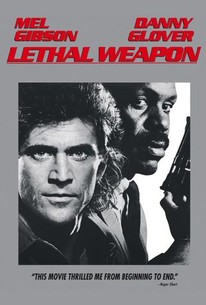 TOMATOMETER
AUDIENCE SCORE
Critic Consensus: The most successful installment in a phenomenally successful series, Lethal Weapon helped redefine action movies for the 1980s and 1990s.
Movie Info
L.A. cop Martin Riggs (Mel Gibson), whose wife has recently died, is a loose cannon with a seeming death wish. This makes him indispensable in collaring dangerous criminals, but a liability to any potential partners. Roger Murtaugh (Danny Glover), a conservative family man who wants to stay alive for his upcoming 50th birthday, is partnered with Riggs. As Riggs gets to know Murtaugh and his family, he begins to mellow, though his insistence on using guerilla tactics to catch criminals is still (put mildly) above and beyond the call of duty. The main villain is The General (Mitchell Ryan), a drug dealer responsible for the death of the daughter of one of Murtaugh's oldest friends. The General is also in charge of a deadly, militia-like gang of smugglers. Adding fuel to the fire is The General's chief henchman, played with all stops out by Gary Busey. Moviegoers familiar only with the relatively tongue-in-cheek Lethal Weapon sequels may be amazed to find out how dangerous and unpredictable Riggs is in the first Lethal Weapon -- and how likely it seems that Murtaugh might not survive until fade-out time. ~ Hal Erickson, Rovi
People Who Like this movie also like
News & Interviews for Lethal Weapon
Critic Reviews for Lethal Weapon
Audience Reviews for Lethal Weapon
½
The movie that changed how we see action movies. It's a movie that showed that we can have our cake and eat it too. Not only does it have clever dialogue and interesting characters, we get exciting action too. It's not just another buddy cop movie. I can think of a lot of reasons why I love Lethal Weapon. First off, the characters are very endearing and down right likable. We've got Mel Gibson playing a crazy guy before he himself went crazy in real life. Danny Glover is Roger Murtaugh who's getting to old for this sh- well, you know. The dialogue is more clever than you see in most buddy cop movies. This and Lethal Weapon 2 are on my list for favorite action movies of all time. It proved you don't need a big dumb Hollywood action ending to make a satisfying conclusion. Here we've just got two guys fighting on a lawn and it's awesome. Letter Grade: A
Chris Miele
Super Reviewer
[img]http://images.rottentomatoes.com/images/user/icons/icon14.gif[/img] Irresistible with brilliant chemistry shared between Mel Gibson and Danny Glover, Lethal Weapon is one of the best action comedies of the 80's. This is what Bad Boys should have been, fast paced but also with heart and likable characters. It's one of the best buddy cop films i've ever seen and one of the most iconic, engaging and hilarious. An essential must watch classic for action fans and film lovers.
Directors Cat
Super Reviewer
½
Roger Murtaugh: I'm too old for this shit!  "If these two can learn to stand each other... the bad guys don't stand a chance." Lethal Weapon is a classic buddy cop/action comedy. I really liked it, but just like Die Hard; I still feel it is a little overrated. It isn't the coolest thing I have ever seen or the most fun action comedy I have seen. What it is is still good, but I was somewhat expecting more because everyone loves it so much. To me this is just a solid and entertaining film. I won't argue its classic status, though.  It's obviously a genre staple, seeing as it is one of the most talked about movies in the genre.  The most likable thing about the movie are the cops, played by Danny Glover and Mel Gibson. Glover plays the old cop who can still get the job done. Gibson plays the younger, crazier cop. He pretty much plays the character the exact same way as he acts in his everyday life today. Those two together make for some great fun and some hilarious dialogue exchanges. They have great chemistry on screen together in this, and I would assume that they have that same great chemistry in the other three. One actor I really didn't like in this was Gary Busey. He plays the villain, and although the guy is nuts in real life; he gives an extremely bland and overall underplayed performance. With a better villain, this could have been even better. The plot is pretty obvious, as it has been done many times. Two cops are partnered up, and hate each other off the bat. After awhile they start to grow on each other, and once they get really into their case, they are best friends. The case they are trying to solve is that of a young woman's murder, which was made to look like a suicide. I may not love it as much as some, but I still really enjoy it. It's the type of movie you can just sit back and enjoy anytime. You don't have to be in the mood to watch a movie like Lethal Weapon. If I'm flipping through the channels on tv and I see this is on, more than likely I am going to watch it. Plus how can you argue with Murtaugh's classic line. Roger Murtaugh: Have you ever met anybody you didn't kill?  Martin Riggs: Well, I haven't killed you yet. 
Melvin White
Super Reviewer
Lethal Weapon Quotes
| | |
| --- | --- |
| Roger Murtaugh: | I'm too old for this shit. |
| | |
| --- | --- |
| Roger Murtaugh: | God hates me |
| Roger Murtaugh: | God hates me. That's what it is. |
| Martin Riggs: | Hate him back it works for me |
| Martin Riggs: | Hate him back; it works for me. |
| | |
| --- | --- |
| Roger Murtaugh: | I'm too old for this shit. |
| | |
| --- | --- |
| Roger Murtaugh: | So we should just registar you as a lethal weapon? |
Discussion Forum
Discuss Lethal Weapon on our Movie forum!