Lethal Weapon 4
(1998)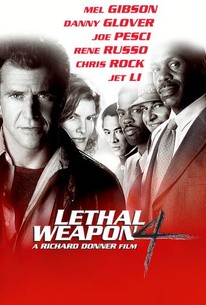 TOMATOMETER
AUDIENCE SCORE
Critic Consensus: Jet Li's arrival breathes fresh life into a tired franchise formula -- but not enough to put Lethal Weapon 4 on equal footing with its predecessors.
Movie Info
Detectives Martin Riggs (Mel Gibson) and Roger Murtaugh (Danny Glover) re-teamed for their fourth foray together in this buddy-cop action comedy series based on characters created by Shane Black. With the passage of years, Murtaugh's daughter Rianne (Traci Wolfe) is now about to upgrade Murtaugh to grandfather status, while Riggs' relationship with internal affairs officer Lorna Cole (Rene Russo) means he'll become a proud papa. Elsewhere on the family front, Chinese triad members in Los Angeles smuggle families from the mainland, but this is only one item on the criminal agenda of triad leader Wah Sing Ku (Jet Li), who executes balletic martial arts maneuvers with blinding speed (fight sequences were staged by Hong Kong director Corey Yuen). The film opens with fire (when Riggs and Murtaugh encounter a flame-thrower in a bulletproof suit) and travels an entertaining popcorn plot path to a frightening, watery climax (which we won't reveal here). In between, Riggs and Murtaugh tackle the troublesome triads with an assist from wickedly witty, sharp-edged newcomer Lee Butters (Chris Rock) and private detective Leo Getz (Joe Pesci), the character first seen as a mob accountant in the second film of this highly popular series. ~ Bhob Stewart, Rovi
News & Interviews for Lethal Weapon 4
Critic Reviews for Lethal Weapon 4
Audience Reviews for Lethal Weapon 4
So for the past four nights I've been sitting down to watch each Lethal Weapon one at a time and let me just say I love this series. Lethal Weapon 4 was a great way to end the Lethal Weapon series. I'm just surprised I never got tired of watching Riggs and Murtaugh on screen. They're just so great together and it shows in each Lethal Weapon movie. I never got tired of these movies. Each movie holds up so well. Lethal Weapon 4 was an excellent end to an excellent series. This one even has a really good cast. It has Jet Li as the best villain in a Lethal Weapon movie (he's right up there next to Gary Busey in the first). Leo Getz is actually really funny in this one (to be honest, I found him irritating in the previous films). Now, just like the third movie, the first half of four isn't as good as the second half. It gets much better as the movie progresses. I love how the final fight scene is just as intense as the fight scene at the end of the first, but this time Murtaugh is involved in the action. Overall: Lethal Weapon is the series that redefined Buddy-cop action movies. Lethal Weapon 4 is a great ending to it all. Movie Letter Grade: A- Series Letter Grade: A
Chris Miele
Super Reviewer
½
By the fourth entry in the Lethal Weapons franchise, it's clear that the whole franchise was staying in the toilet, not that I ever truly cared much for the Lethal Weapons. By this time around, the series is so tongue in cheek that its lost it's credibility and it's hard to see it as a solid action film. Some casting decisions are plainly terrible. Joe Pesci and Chris Rock are bad in this, and it's surprising to have Pesci be annoying as hell here because he was terrific in Goodfellas and Raging Bull. Lethal Weapon 4 is one of the worst action films that I've seen. Lethal Weapon 4 is a blunder and doesn't work half the time. The fm is entertaining, but it feels so tonguie in cheek like I said it losses the fire to make it a truly memorable action film. The acting I thought was mediocre and it's not one of the best films with Mel Gibson. For me The Mad Max films and the first Lethal Weapon and Braveheart are his best performances, but in this film he falls flat. The best way to summarize Lethal Weapon 4 is that it's a mediocre fourth film that scraps the bottom of the barrel. The film could have been good, and there was some entertaining parts, but it wasn't enough to redeem the poor final product that is this film.
If this truly is the last entry in the series, it was quite the finale. Jet Li is quite possibly the most lethal of all the villains that Riggs and Murtaugh have gone up against and downright evil. Mel Gibson and Danny Glover still have so much chemistry after four movies and feel so genuine as best friends and partners. I liked seeing the cast that has grown over the years all brought together for this, it's a great family. The action in this movie continued to follow it's predecessors, being ridiculously cool and realistic at the same time. This one seemed to have the most emotional weight tagged on to it and it would almost be hard not to shed some tears at the end for Leo's frog story.
Conner Rainwater
Super Reviewer
Lethal Weapon 4 Quotes
| | |
| --- | --- |
| Lee Butters: | Look at this badge, bitch! Check out the gun! |
| | |
| --- | --- |
| Wah Sing Ku: | In Hong Kong, you'd be dead. |
| | |
| --- | --- |
| Lorna Cole: | You look a little banged up. |
| Martin Riggs: | You look a little knocked up. |
| | |
| --- | --- |
| Martin Riggs: | Flied lice? |
| Uncle Benny: | Flied lice! It is fried rice, you plick! |
Discussion Forum
Discuss Lethal Weapon 4 on our Movie forum!