Letter Never Sent (Neotpravlennoye pismo)
(1959)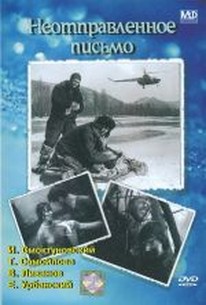 AUDIENCE SCORE
Critic Consensus: No consensus yet.
Movie Info
A group of Russian geologists hunting for diamonds in Siberia becomes trapped by a forest fire.
Critic Reviews for Letter Never Sent (Neotpravlennoye pismo)
Audience Reviews for Letter Never Sent (Neotpravlennoye pismo)
½
While a very sobbering film and one that really packs quite a lot of melodrama into it's short running time, Letter Never Sent is a very artistic work with a few things going for it. The cinematography is amazing and really captures nature in both a very serene and dangerous way through long shots and tracking shots of the vast landscape the explorers are within. The POV changes constantly in the film altering between scenic long shots to the varying characters point of views both in their normal interactions as well as being carried or finally succumbing to exhaustion. It really does add a very unique and personal perspective to the filming and the viewpoint of the person watching. It is tributed to explorers everywhere and the Soviet Union in which the characters say numerous times that they are conducting the geological search for the betterment of the movement. Taken as a tale of survival though, which it ends up truly being, the film is wonderfully done and very artistically captured.
Chris Browning
Super Reviewer
½
Stark, raw and a little artsy. Fantastic performances all-around.
Randy Tippy
Super Reviewer
"The Letter That Was Never Sent" is an awesomely shot but politically troubling tale of three geologists and their guide who are searching for diamonds in the pristine wilderness of Siberia.(Two of whom, Andrei(Vasili Livanov) and Tanya(Tatyana Samojlova,) are in love.) In summer, they have no luck, so they decide to stay until fall when curiosity turns into obsession. In America, the above plot could well have been about greed. In the Soviet Union, all four characters are devoted to serving the State(The movie is dedicated to all such explorers.) which is noble, I guess, but personal safety should always be a consideration. And a bigger factor than nationality should be the earth and the care it requires. I say that knowing the environmental movement does not happen until at least ten years after this movie was made, but some thought should have been given to the natural beauty that could be ruined by any diamond mining. (Originally reviewed in the blog section on January 28, 2008.)
Letter Never Sent (Neotpravlennoye pismo) Quotes
There are no approved quotes yet for this movie.