The Librarian: Return to King Solomon's Mines
(2006)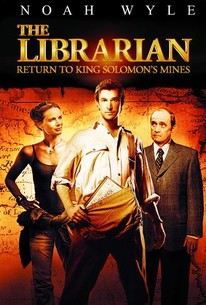 AUDIENCE SCORE
Critic Consensus: No consensus yet.
The Librarian: Return to King Solomon's Mines Photos
Movie Info
An adventurous former librarian sets out in search of the legendary mines of King Solomon in this epic sequel to The Librarian: Quest for the Spear starring Noah Wyle, Gabrielle Anwar, Bob Newhart, and Olympia Dukakis. Flynn Carsen (Wyle) was a quiet bookworm whose 12 bachelor's degrees, six master's degrees, and four Ph.D.'s weren't earned by risking his life at the far corners of the globe. But now school is over, and the only way to uncover some of history's most exciting secrets is to travel into the field and set out on the adventure of a lifetime.
Critic Reviews for The Librarian: Return to King Solomon's Mines
Audience Reviews for The Librarian: Return to King Solomon's Mines
25/07/2010 (DVD) Definitely a better quality film then the last one but I'm surprised that they even attempted a sequel, anyway it wasn't a bore so I guess it's all good. It's still a little cheesy but it works for the film and as long as it's got a fair amount of interesting reasons for me to keep watching then I'll put up with it. Not a bad sequel but I reckon the first one was funnier.
EightThirty .
Super Reviewer
Flynn has become a little more accustomed to the action lifestyle. In the opening scene, he is out in the American West playing the Lone Ranger and Tonto. He's trying to escape from another evil organization that has discovered a crystal skull (two years before Indiana Jones sought the same mythical artifact). He returns to the Library and has a fight with Excalibur, a sword that floats around and has a mind of it's own. And evidently Nicole has left. Well at a birthday party Flynn's mother has planned for him, the filmmakers try to show a bit more of his family background. An uncle character who has traveled all over the world is introduced, and Flynn talks quite a bit about how he really didn't know his father very well. Eventually he's off to Africa like Allan Quatermain, on another adventure to help protect the secret of King Solomon's mines (of course another biblical archeological quest). At the excavation site Flynn meets Emily, who is a scholar like him but has him beat on the number of college degrees she has obtained. So this time instead of brain and muscle working together, it is brain and brain through much of the adventure. The special effects are even more outrageously bad, the jokes are still not very smart, the romance element doesn't really have chemistry, and the plot is way too predictable. Still with Jonathan Frakes directing this one I guess it was a little better than the first.
Byron Brubaker
Super Reviewer
½
Pretty basic but enjoyable. The special effects were weak but they were in the first one as well. The ghost we see in the end was pretty bad. The character of Flynn is good and I like how he is still clumsy but able to hold his own during the adventures now. I wish they would have said what happened to the girl agent though. This is a fun series and I look forward to seeing the next one.
Jason Spencer
Super Reviewer
The Librarian: Return to King Solomon's Mines Quotes
There are no approved quotes yet for this movie.