The Life and Death of Colonel Blimp
(1943)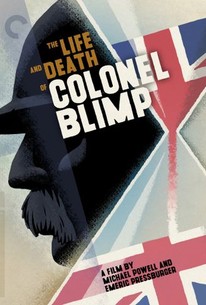 The Life and Death of Colonel Blimp Photos
Movie Info
Michael Powell and Emeric Pressburger's much-lauded epic Life and Death of Colonel Blimp, which satirizes British traditionalism, stirred up impassioned hostilities and indignations among the Brits when released in 1943. It so infuriated Winston Churchill, in fact, that he refused to allow its exportation to other countries, particularly the U.S. When Blimp finally did premiere in the States in 1945, it screened in a drastically cut version. The sweeping story covers several decades. It begins at the tail end of the Boer War, when handsome young British officer Clive Candy, recently back from the battlefront, is infuriated by his discovery that Deutschland papers have played up the British atrocities in South Africa, propagandistically. He grows so irate, in fact, that he travels to Germany to address the problem. Once there, he meets an attractive British educator, Edith Hunter (Deborah Kerr) who spends her days teaching English as a second language to German students. They grow close, but Candy so aggravates the local indigenes that he winds up in a duel with a German officer, Theo Kretschmar-Schuldorff (Anton Walbrook). The men wound each other and are sent to the same hospital, where they become friends. Candy - who doesn't yet realize he's fallen in love with Edith -- senses that Theo and Edith are attracted to one another, and encourages the couple's marital union. Candy subsequently returns to England, then falls for and marries Barbara (again played by Kerr), a nurse who bears a strong resemblance to Edith. She later dies, but Candy meets a third woman during WWII, Johnny (Kerr a third time), assigned to drive him from one locale to another during his campaigns. Meanwhile, Theo - disgusted by Nazi atrocities -- absconds to England, where he reencounters his old friend, now a prattering old shuffler rapidly approaching the end of his career and raving continuously about Nazi conduct (or lack thereof) in battle. Powell and Pressberger adapted Colonel Blimp from a comic strip; it became one of the hallmarks of their careers. ~ Sidney Jenkins, Rovi
News & Interviews for The Life and Death of Colonel Blimp
Critic Reviews for The Life and Death of Colonel Blimp
Audience Reviews for The Life and Death of Colonel Blimp
The magic of the Powell & Pressburger directing and producing team has never been more prevalent or as affecting as it was than with their World War II character study epic The Life and Death of Colonel Blimp. Heralded as one of, if not THE greatest British film ever made, its power lies soley in its performances and its dialogue. People that see it as nothing more than a pro-war statement seem to miss the point completely. To me, it's about what Colonel Candy goes through at the end of the film: not understanding what to do, even if you think you know you do. That sums up the film's overall message to me. If it were a pro-war statement, then he'd know exactly what to do. That's a sort of simple-minded view, but it's one I picked up on early on. Roger Livesey, Anton Walbrook and Deborah Kerr are magic, and their performances still have the power to affect. A colossally-well made piece of cinema.
Tim Salmons
Super Reviewer
This film is an interesting look at young people looking at old people...what you see is a paunchy old guy with a moustache, but as the old guy says, "You don't know anything about me," and of course the movie endeavors then to tell us all about the old guy. It was a little humbling to realize that we are the last generation alive who heard first hand accounts from the turn-of-the century crowd and when we die it goes with us. But this movie is a marvelous film archive of what it was like then.
Bathsheba Monk
Super Reviewer
How amazing is Anton Walbrook? He steals almost every scene he's in.
Jonathan Hutchings
Super Reviewer
The Life and Death of Colonel Blimp Quotes
There are no approved quotes yet for this movie.