Life of a King
(2014)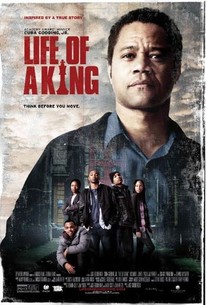 Movie Info
Life of a King is the unlikely true story of Eugene Brown and his one-man mission to give inner-city kids of Washington D.C. something he never had - a future. He discovered a multitude of life lessons through the game of chess during his 18-year incarceration for bank robbery. After his release and reentry into the workforce, Eugene developed and founded the Big Chair Chess Club to get kids off the streets and working towards lives they never believed they were capable of due to circumstances. From his daring introductory chess lessons to group of unruly high school students in detention to the development of the Club and the teens' first local chess competitions, this movie reveals his difficult, inspirational journey and how he changed the lives of a group of teens with no endgame. (C) Millenium
Critic Reviews for Life of a King
Audience Reviews for Life of a King
½
Martin Luther King me! Well, that was kind of racist, because, yeah, this isn't really the long-anticipated MLK biopic... that everyone will actually remember (Remember "King"? Neither does NBC, I'd imagine), and you need only look at the poster to realize that. The "i" in "King" is a king chess piece, the picture at the bottom appears to be some young criminals of the urban streets, and if they're going to make a definitive MLK biopic, then you know that it's going to have enough integrity to not get Cuba Gooding, Jr. (If the "King" miniseries was going to be remembered, then it was probably going to need a name bigger than that of Paul Winfield). Well, in all fairness, this film does appear to be the unison of black and white Americans, because even though it seems to simply be about the struggles of youths of the inner city of Washington, it's so white that it's about bringing chess to the streets. This is probably the whitest inner city drama, like, ever, even down to, well, starring Cuba Gooding, Jr., while featuring a director so white that his name is Jake [u]Goldberger[/u]. He looks about like you'd expect Cillian Murphy to look if he was slightly more Jewish and didn't have to worry so much about polishing himself to step "in front" of the camera, but hey, let Jake have it his way, because it's his Goldberger King. All of these lame and, to someone, offensive puns aside, Goldberger seems to have a firm enough grip on black filmmaking to make this a decent drama, though not exactly as exciting as you'd expect from a film about inner city kids... playing chess (Yeah, sounds captivating). I can go a while with cracking jokes about how bland this plot seems to be, but storytelling does go limp at times in which material meanders, backed by a certain thoughtfulness to Jake Goldberger's direction that is not justified by subtle writing, and is therefore blanding. As much as the film drags, however, it saves a good bit of time at the expense of extensive development, which leaves holes in certain character backgrounds and motivations, and draws thin roles when characterization does kick in, molding almost trite types who do not reflect the peak of contrivances. The film is adequately compelling and hopelessly melodramatic with its storytelling, typically a manner that simply lacking in a sense of genuineness, and all too often near-startlingly unsubtle with its heavy-handed dialogue, sentimental scoring, and blatant dramatics, delivered all in a desperate attempt to flesh out a story of only so much consequence. Embrace the boasts that this story is true upon entering this film, because even the narrative involving a good-hearted ex-con guiding troubled youths through the sophisticated game of chess is about as far-fetched as it is thin in conflict and intrigue, despite an undeniable potential for uniqueness that the telling of a questionable story never misses an opportunity to betray. They could have done some genuinely fresh with this inner city of drama of limited genuineness otherwise, but in addition to being too lazy to control a lot of its structurings and melodramatics, storytelling further betrays what value there is to its narrative by conforming to many an almost embarrassingly glaring cliché, until it is hardly anything unique as an inner city drama, in spite of a few particularly cheesy touches. Now, for every error in judgment, there is inspiration, and enough of it to save the film as pretty decent, with strong occasions, but what missteps there are actually are more extreme than I make them sound, collapsing into almost TV-grade contrivances and genericisms, with bland indie structurings. The final product is rather forgettable, but not as flat as it could have been, being an almost serious mess, yet a generally endearing, or at least often well-polished one. Certain artistic and stylistic touches are lacking in originality and considerable inspiration, but that they are commendable at all in this very thin independent drama is almost remarkable, with Eric V. Hachikian delivering on a score that, despite its sentimentally unsubtle moments, proves to be fairly solid in its doing justice to highlights in dramatic tone, and in its individual artistic quality, much like handsomely crisp cinematography by Mark Schwartzbard. The film is pretty pretty, I can give it that much, and really, I wasn't expecting to, as this seems to be the kind of film whose substance ought to be more prominent and inspired in its handling than style. The substance of this film, as it turns out, is very flimsy, at least in its interpretation, which is superficial, melodramatic and, well, trite, and the story's being thin in conflict and questionable in believability, in spite of its being true, is bothersome enough in concept, and yet, like I said, there is a certain freshness, or a potential for freshness in this inner city drama, perhaps even a certain potential for dramatic effectiveness. There's not really much meat to the whole idea of some ex-con helping troubled kids learn to play chess and what have you, but themes regarding bettering yourself in order to escape from a place of oppression and danger do carry weight, being handled heavy-handedly by Jake Golberger, as director, who finds occasions of undeniable resonance in controlling sentimentality enough to touch with unexpectedly memorable dramatic highlights. Between these very rare heights in generally problematic dramatics, if nothing else, is charm, which endears, maybe even entertains enough to draw you into some of the heart of this very human affair which is most kept pumping by very human performances. Individual charisma and collective chemistry are found in considerable quantities through a cast handed thin and lacking dramatic material, but a lead cast comprised of Cuba Gooding, Jr. and a number of young up-and-comers have their moments to shine and add some sense of consequence and importance to this minimalist, yet earnest drama. There are both occasions which are just about embarrassing, and occasions which are pretty solid, and such an inconsistency in inspiration doesn't exactly beget a consistently compelling drama, but there is, in fact, enough heart and highlights to make the final product a fair one, for all its flat points. When it comes down to checkmate, slow spots, thin characterization, often cloying melodramatics, and an altogether near-trite telling of a potentially refreshing narrative of limited conceptual bite render the final product forgettable, but there is still enough heart here, kept pumping by surprisingly solid scoring and cinematography, directorial highlights, and performances which make Jake Golberger's "Life of a King" a flimsy, yet charmingly and sometimes touching earnest portrait on unexpected figures guiding the betterment of youths through an unexpected path. 2.5/5 - Fair
Cameron Johnson
Super Reviewer
½
This moving and inspiring drama about chess is directed by Jake Goldberger, and he wrote the screenplay with David Scott and Dan Wetzel, based on the true story of ex-con-turned-youth-mentor Eugene Brown. Very earnest movie with solid performance from star Cuba Gooding Jr. still suffers from the trappings of its genre - formulaic plot and predictability. Young stars Malcolm M. Mays and Carlton Byrd gave it a shot, but it sounded more like an air-gun! "Life of a King" could look like a mixture of two genres because it has the uplift of a movie in which tough kids meet even tougher teachers, and combination of the underdog sports film, but it actually uses the game and the school to discuss the deeper challenges facing the most vulnerable population in United States. This is an art work which highlights the facts that this most vulnerable population has brains, soul, heart and character. The enduring hope in the goodwill and potential of children were almost contagious, even without the scenes with the high intensity and hyper realism so popular today. Effective emotionally, this movie will awake many sleepy souls, with a good message!
Think before you move. Good Film! Cuba Gooding Jr. plays a wonderful part. I'm not a big fan of Cuba, but I thought this was a magnificent performance. He always has such a somber and sad look on his face that perfectly fits this role. The message the movie wants to tell, is that life is like a chess game. Once you understand and apply that to daily life, there are opportunities to escape the downward spiral. At times I found it very moving. But you have to admit that this is just an average movie with the usual clichés and predictable situations. This movie will finally end up on some TV channel that broadcasts more of this moralizing, with life stories filled, movies. Life of a King is the unlikely true story of Eugene Brown and his one-man mission to give inner-city kids of Washington D.C. something he never had - a future. He discovered a multitude of life lessons through the game of chess during his 18-year incarceration for bank robbery. After his release and reentry into the workforce, Eugene developed and founded the Big Chair Chess Club to get kids off the streets and working towards lives they never believed they were capable of due to circumstances. From his daring introductory chess lessons to group of unruly high school students in detention to the development of the Club and the teens' first local chess competitions, this movie reveals his difficult, inspirational journey and how he changed the lives of a group of teens with no endgame.
Discussion Forum
Discuss Life of a King on our Movie forum!