Life of the Party
(2018)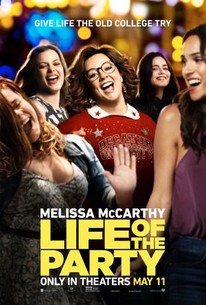 TOMATOMETER
AUDIENCE SCORE
Critic Consensus: Life of the Party's good-natured humor and abundance of onscreen talent aren't enough to make up for jumbled direction and a script that misses far more often than it hits.
Movie Info
When her husband suddenly dumps her, longtime dedicated housewife Deanna (McCarthy) turns regret into re-set by going back to college...landing in the same class and school as her daughter, who's not entirely sold on the idea. Plunging headlong into the campus experience, the increasingly outspoken Deanna-now Dee Rock-embraces freedom, fun and frat boys on her own terms, finding her true self in a senior year no one ever expected.
News & Interviews for Life of the Party
Critic Reviews for Life of the Party
Audience Reviews for Life of the Party
Melissa McCarthy is really hit and miss for me. This is watchable, but that's the best I could say for it. There's a lot of gross humor, which I personally don't like. It actually started off okay too and I had hopes it might be funny, but it never really lifts to what it could be.
Nicki Marie
Super Reviewer
I'm becoming a little exhausted by Melissa McCarthy. When she's put in a group, sure, she works well. On her own though, it just never seems to stand. With the exception of Spy, which even then I didn't think was that great, all her movies are profoundly meh. They're not even bad necessarily, just meh. It's the same thing here. The story is cute I guess (though we've seen it before), the characters are fine, and there were one or two jokes that were genuinely funny. But was it worth those one or two jokes for the overall period where I was just kinda' bored by the movie? The movies not good, but it's not really bad either. It just...is.
Michael Malan
Super Reviewer
½
The third time's a charm for writer/director Ben Falcone and his wife/collaborator Melissa McCarthy. After making the abysmal Tammy together and the more competent if not still narratively flawed The Boss, the husband/wife creative team have finally delivered a movie that has not just a fun enough comedic presence, but characters that really click and who are put in situations that we can't wait to see them thrive or hysterically try to survive in. Low expectations may have played a role, but from the get-go we are aware of who McCarthy's Deanna is; we've met someone like her in our own lives. Her sweaters are beyond glorious. The supporting cast of Gillian Jacobs as Coma Girl, Debby Ryan as the token mean girl, Jessie Ennis as this completely weird, but totally endearing fellow sorority sister to Deanna's daughter, Maddie (Molly Gordon), are each fantastic in their own well-defined way. That's not mentioning SNL's Heidi Gardner as Deanna's agoraphobic new roommate, Chris Parnell as a corny archaeology professor, Matt Walsh as the tool bag ex-husband and Julie Bowen as his new bride-to-be who are each provided their moments to shine. Think that's all? Nope. Maya Rudolph steals every scene she's in, Stephen Root and Jacki Weaver are adorably clueless as Deanna's parents, and Luke Benward who initially seems he will serve no purpose other than eye candy turns in a strong comedic turn and whose role in the story sets up one of the best and most surprising scenes the movie has to offer. The "80's party" and oral presentation scenes solidify just how much fun this movie is to experience if you're not already on board with everything going on by the time we get into these sequences, but even better is the fat Life of the Party is consistently hilarious. I can't wait to watch this again and share it with more people.
Philip Price
Super Reviewer
Life of the Party Quotes
There are no approved quotes yet for this movie.