Little Evil
(2017)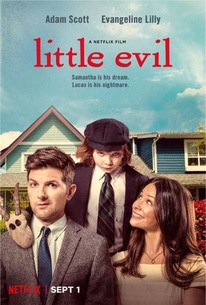 Movie Info
From writer/director Eli Craig (Tucker & Dale vs. Evil); Adam Scott (Big Little Lies, Parks & Rec) and Evangeline Lilly (Ant-Man, Lost) star in this offbeat comedy about love, family, and the Antichrist. Gary has just married the love of his life, Samantha, and is now the stepfather to her quirky 5 year old son, Lucas (Owen Atlas). But he soon finds himself in increasingly odd situations around the child, which drives him to believe his new stepson may actually be the spawn of Satan.
News & Interviews for Little Evil
Critic Reviews for Little Evil
Audience Reviews for Little Evil
This had a lot of potential but it only delivers when the cast of characters play off each other. Adam Scott is the driving force here and he gives another solid performance in the lead role. The concept is the weakest link, they setup an interesting idea but the execution is an otherwise lack in direction. The humour is the play on a tired genre and these funny moments are the key for holding the film together. The stepfathers group is the best idea of the film and they never exploit this even though it clearly gains the biggest laughs, not sure they didn't build an extra 20 minutes into the film. Not one of best films on Netflix but it does pass the time. 06-09-2017.
Brendan Nicholls
Super Reviewer
Nicki Marie
Super Reviewer
½
I feel like I should preface this review by saying that Eli Craig wrote and directed one of my favorite horror movies of this decade. That movie is Tucker & Dale vs Evil. It might actually be one of my favorite horror-comedies of all time, just the way it cleverly plays with and subverts the tropes associated with backwoods horror movies. And not to mention the fact that, quite honestly, it was a really fucking funny movie with a lot of heart. It's like a simplified Cabin in the Woods. And I don't mean that as an insult, it's just that its cleverness isn't as "overbearing" as Cabin's was to some people. Anyway, the point is that whatever Eli Craig made after Tucker & Dale was a movie that I was definitely gonna be looking forward to, no matter what form it ended up taking. Which is why it disappoints me so greatly that this movie just falls quite a bit short of the lofty standards set by Tucker & Dale. I think the first thing that I should say is an obvious statement, this is not a bad movie. I just think that it's a movie that, given its concept and its comedic potential, just ends up really disappointing you. Part of the problem is the fact that I believe the film spends more times making references to the obvious films that inspired. And I don't mean like Family Guy, where they explicitly name the movies or series they're talking about, I just mean with visual cues or borrowing elements from other films. This film borrows from The Omen (which is the most obvious one), Poltergeist, The Shining, The Exorcist, Children of The Corn, Rosemary's Baby. And that's really just off the top of my head, I'm sure there's others that I'm just completely blanking on. The film spends a lot of time making reference to those movie through certain events or, as I mentioned, visual cues without really succeeding at getting good comedy out of it. Another part of the problem is that I think that the movie spends way too much time on Gary being on the fence of whether or not Lucas (his stepson) is the spawn of Satan. I think a better movie is the one we got for, like, the last 30 minutes. The previous hour is just Gary slowly coming to the realization that something is not right with Lucas. This all climaxes when Gary tells Samantha, his wife and Lucas' mother, that Lucas is the Antichrist. The last 30 minutes of the movie are actually very good, because it sees Gary finally come to the realization that Lucas really isn't that bad and how they're finally able to build a connection with one another. Naturally speaking, however, there's this cult that wants to kill Lucas since he is a portal to Satan. If Lucas is killed on hallowed ground, Satan will take over his body and cause the end of the world. These last 30 minutes are when the movie really finds its focus and it manages to become pretty entertaining. And I just wish the film had found a consistent tone for the prior hour, cause this would have gotten 3+ stars for sure. The casting is strong. No complaints there. Adam Scott is always great, Evangeline Lilly is lovely. Bridget Everett, as Al, steals the show here however. I can't even begin to describe her character, but let's just say she's a scene stealer no matter where she is. Tyler Labine also has a really memorable scene as a pretentious wedding videographer. Hell even Owen Atlas, who plays Lucas, does a good job here, even if all he's doing is trying to look creepy or like a miniature Angus Young. I'm not even saying that the first hour of the movie is bad, some highlights are sprinkled here and there. It's just that the last third of the movie is considerably better than everything that came before it and I just wish it hadn't been that way. I don't really know what else to say, I think I've pretty much laid it all out on the line. I suppose they were hopeful that Adam Scott, Bridget Everett and Evangeline Lilly were more than enough to help overcome a weak first hour, but they're not. They're great, of course, but they needed something more to work with. The last third of the movie, however, it's like they flipped a switch and it's a completely different movie. Having said that, though, I don't think I can give this any more than 2.5. It just lacked a strong consistent tone throughout, no matter how good the last act is. I can't give it a wholehearted recommendation, but I'm sure there's something to enjoy here if you're able to overlook its flaws. This is a movie better watched with friends. I don't think it'd add much to it, but I can tell that you'd still enjoy it more than if you just watched it alone.
Jesse Ortega
Super Reviewer
Little Evil Quotes
There are no approved quotes yet for this movie.
Discussion Forum
Discuss Little Evil on our Movie forum!