The Little Girl Who Lives Down the Lane
(1976)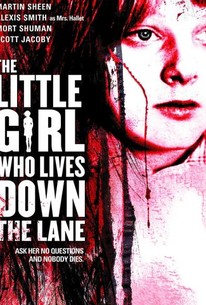 The Little Girl Who Lives Down the Lane Photos
Movie Info
In this horror film, Jodie Foster plays a reclusive, fiercely self-reliant teenager who lives alone in her father's house. He's away, all right...far away. Foster, determined not to lose her independence, will go to any lengths to protect her secret, a fact that a nosy neighbor learns to her regret.
News & Interviews for The Little Girl Who Lives Down the Lane
Critic Reviews for The Little Girl Who Lives Down the Lane
Audience Reviews for The Little Girl Who Lives Down the Lane
½
Rynn: How old do you have to be before people start treating you like a person? "Ask her no questions and nobody dies." The Little Girl Who Lives Down the Lane is a pretty good little movie. I don't know how to classify it. It's not really thrilling enough to be a thriller, and it definitely isn't a horror film, as the title would seem to suggest. It plays out more like a drama then anything else, and as such, it's much better than I thought it would be.  A little girl, Rynn, is the girl from the title. She's a thirteen year old girl that lives with her "father." Every time someone comes around though, he is either working or out of town. Soon a local pervert and his mother, who is the person Rynn's father leased the house from begin to make life more difficult for her. They start asking questions about where Rynn's father really is. That's as much of the plot I'll give away, as the movie is much better with just knowing these few little details. What makes this movie as good as it is, is Jodie Foster as Rynn. She was a phenomenal young actress, and I am beginning to see a lot of Jodie Foster in another great child actress, Chloe Grace-Moretz. Foster and Grace-Moretz have that same adult authenticity to their acting, and Foster is able to act like an adult to perfection. Her performance is the only thing that is really notable about the movie. Also, Martin Sheen as the pervert is something worth noting as well. The film isn't without its problems though. For one, the music is laughable and really disturbs the should be atmosphere of the film.  In the end, The Girl Who Lives Down the Lane is worth checking out. It wasn't what I expected, but I liked the premise behind it and Jodie Foster was able to pull that premise along throughout. Don't go into this expecting a horror/thriller in the everyday sense because it won't deliver much in the ways of thrills or scares. It's something a little different and something that was an enjoyable and interesting viewing. 
Melvin White
Super Reviewer
This is one of those movies that blend the psychological horror elements and thriller elements to create something totally eerie and unforgettable. The Little Girl Who Lives Down The Lane is an effective film that relies on a well written script and great cast to create effective tension on-screen. Directed with flair by Nicholas Gessner, this is a must see for fans of either genre. Jodie Foster is terrific in her performance and she's pretty intense and creepy as well. However the most chilling performance of all is that of Martin Sheen, who plays her neighbor and he is also a pedophile. The film tends to rely more on the atmosphere to create its chills, and it does that very well. This is the perfect psychological horror thriller in terms of a well crafted story that will keep you interested from start to finish. There's enough good things happening on-screen to keep the viewer interested and this is a film that you soon won't forget. Even when Jodie Foster was a teenager, she had the talent to deliver something special in her performances, and she does that in this picture. To compliment the horror, director Gessner adds a touch of mystery and it leaves you guessing right up to the very end. Films like this are rare and it just goes to show that you're able to pull off so much with so little. Don't pass up on this one; you'll be glad that you watched it. The Little Girl Who Lives Down The Lane is one of the best psychological horror films that I have seen. With a great story and effective performances, this is a film that is sure to appeal to genre fans.
½
A low budget 70's horror classic with perverse underpinnings. Similar to Let's Scare Jessica to Death (1971) and The Last House on the Left (1972) but much more subtle and enigmatic.
Randy Tippy
Super Reviewer
The Little Girl Who Lives Down the Lane Quotes