Little Odessa
(1995)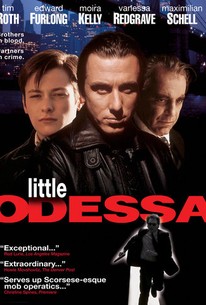 Movie Info
A somber portrait of organized crime and family trauma, Little Odessa centers on the trouble caused when hit man Joshua Shapira (Tim Roth) returns to his old neighborhood of Brighton Beach, Brooklyn. A hired killer for the Russian Mafia, Joshua is given an assignment in his hometown, where he renews contact with his younger brother Reuben (Edward Furlong) and an old flame (Moira Kelly). But others do not welcome Joshua's return, particularly his harsh, estranged father (Maximillian Schell), who had disowned Joshua years before and currently attempts to keep him from visiting his seriously ill mother (Vanessa Redgrave). The pressure of these family crises combine with Joshua's deepening involvement in the local crime scene, ultimately triggering a bloody confrontation. First-time director James Gray creates a solemn, oppressive atmosphere that emphasizes the already grim nature of his story. The slow pace and familiar crime narrative were attacked by many viewers, contributing to a mixed critical reaction, but Little Odessa nevertheless won admiration for Gray's visual sense and the skilled performance by Roth in the unsympathetic lead role.
People Who Like this movie also like
Critic Reviews for Little Odessa
All Critics (18) | Top Critics (4) | Fresh (11) | Rotten (7) | DVD (1)
This dark, brooding family melodrama, set against the context of Brooklyn's Russian-Jewish mob, is well acted by Tim Roth, Maximillian Schell, Vanessa Redgrave, and Edward Furlong.
Desperately trying to say something complex, it only manages to look as if it said something that mattered.
Audience Reviews for Little Odessa
½
With an unrelatable psychopath at its center and only the strong performances to commend, especially from Tim Roth and Maximilian Schell, this is a failed combination of family drama and crime thriller that falls flat as both, seeming pointless and empty in its poor attempt at saying something.
Carlos Magalhães
Super Reviewer
You can see brief flashes of potential brilliance, but the fact that none of them amount to anything only makes the film more disappointing. Also, I hope that whoever was the boom mic operator for this never worked again . . . it's embarrassing how often you can see it.
Alec Barniskis
Super Reviewer
½
Billed as another Goodfellas, Little Odessa is the story of a mafia hitman returning home to do a job, as well as seeing the poor immigrant family he left behind. The story is great, the movie is not. Tim Roth is fantastic as the disowned, disgraced, murderous son. Roth always gives a very strong performance and does so again here. Edward Furlong, one of my favorites, unfortunately does not do as well. I've seen him in enough things to know, it's not his fault, it's the writing. This film is so dark and painfully slow that I barely made it through. Very little is explained and the dialogue is laughable, even at times non-existent. There are huge plot holes to go along with an ending that makes little sense. The writer was trying to tell his story more through imagery and symbolism in a genre that is based on action. You can't pull off something like this without explaining more of the story and using it to move things along. It's not the worst film I've ever seen, but to be honest, I was bored from start to finish.
Todd Smith
Super Reviewer
Little Odessa Quotes
There are no approved quotes yet for this movie.