Lizzie Borden Took an Ax
(2014)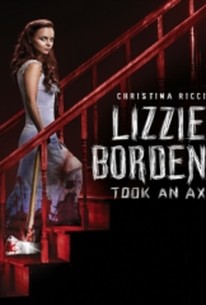 Lizzie Borden Took an Ax Videos
Lizzie Borden Took an Ax Photos
Movie Info
The true story of Lizzie Borden, a young woman tried and acquitted in the 1892 murders of her father and stepmother.
Rating:
NR
Genre:
,
Directed By:
Written By:
On DVD:
Runtime:
Studio:
Sony Pictures Entertainment
Critic Reviews for Lizzie Borden Took an Ax
Audience Reviews for Lizzie Borden Took an Ax
Woof! I know this was a made-for-TV movie, but I was expecting it to be a bit better than it was. The acting was subpar and the costuming was atrocious.
Lauren Scheier
½
In my opinion, Christina Ricci is what you call an actress. You cant say that about alot of the others out there. I would love to write for movies. When writing stories I always think that 'talent' wise, when imagining females for a role, Ricci is up there with the tops. Many of her movies grab the attention of critics etc because of the 'acting', not a lip or a boob job. Ricci has never been better than in 'Lizzie Borden'. She will always be known as the girl who played in 'Casper' and Tuesday Adams from 'The Addams Family'. She will be that pale little gothic girl with the dark hair and the great big eyes. Movies like 'Black Snake Moan' and especially 'Monster' later grabbed people's attention and critics whailed over the latter. For many, maybe those two movies were too much. They were at times graphic and made you look away. Here Ricci plays a dark character like the ones in her past, only this time she is elegant and old fashionedly dressed. Ricci has never looked better than in this role. She's simply adorable. I did always picture in my mind a Lizzie Borden movie as being black and white. I think it would stay closer to the sinister images we all know and it would keep that old creepy feel of it alive. The murders in this one are sinister enough. They make you whince like the murder photos do. Its just thats its all in digital color and it slaps you with it fast. The people certainly act well and dress the part---the family, the girls, the father, etc. Modern technology just makes it seem like state of the art tech trying to look old. What movie doesn't do that today? Texas Chainsaw fell victim to the same treatment---the new trying to look old. The old version had that old, gritty, sweaty, slimy, stinky feel. The new version had this state of the art, digital look trying to show old images, like murderous houses. As for those who dont like this Borden movie, who could possibly be a better choice for Lizzie than Miss Ricci? Look at her dark/gothic career choices, plus the fact she's just adorable here. It makes it seem like "Who would do such a ghastly thing? Couldnt be little old me." In that light, she's excellent. Maybe someone like Kathy Bates would be a better fit. When you look at Borden's portrait photos and given Bates' talented movie roles, Kathy would make an excellent Borden. However, her current age may be too old for the part of young Lizzie living in a house with parents, and wouldnt we have Stephen King's Misery all over again? Cheers to Ricci and the others for what I thought was a marvelous job given todays technology. You've never been better. This is my favorite Ricci movie and am glad to have it in my hands. Fans would do well to snatch this one up quickly. For the stiff Borden buffs, what other versions do we have to go by? There's a rare 1970's Samantha from Bewitched version of Lizzie floating around on VHS somewhere that I can never locate. I'll believe it when I have it in my hands. If you're just a curious horror renter, check it out. Its quite good. It beats the hell out of the thousand takes on 'the haunting of this' or 'the paranormal of that'. And it's certainly better than 'this', part twelve.
Robert Lee
[img]http://images.rottentomatoes.com/images/user/icons/icon14.gif[/img]
Directors Cat
Super Reviewer
Lizzie Borden Took an Ax Quotes
| | |
| --- | --- |
| Lizzie Borden: | You know why I didn't run. Because I thought to myself, that's what killers do. They run. I didn't want to look like a killer |
Discussion Forum
Discuss Lizzie Borden Took an Ax on our Movie forum!