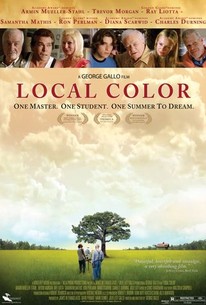 Local Color
2006, Drama, 1h 39m
18 Reviews
500+ Ratings
Where to watch Local Color
Subscription
Watch Local Color with a subscription on Amazon Prime Video.
Rate And Review
Movie Info
In 1974, 18-year-old John (Trevor Morgan) discovers that once-famous landscape painter Nicholi Seroff (Armin Mueller-Stahl) lives in his small town in New York state. Though Nicholi is a recluse, John talks his way into the artist's house with a bottle of vodka. After Nicholi warms to the young man, he offers John a chance to spend the summer with him at his Pennsylvania country house, in exchange for doing the housework. John agrees, and once there he falls for neighbor Carla (Samantha Mathis).
Audience Reviews for Local Color
An amazing heartfelt autobiographical coming-of-age bio- drama written and directed by George Gallo, starring Armin Mueller-Stahl, Ray Liotta and Trevor Morgan in the lead role. It is based on a Gallo's experience when he was 18. The character of Nikolai Serov was based on George Cherepov, to whom Gallo had been an apprentice in the 1970s. Interesting part is that Gallo also painted all of the oil paintings in this movie, having "cleaned out his whole garage" of his paintings. In particular, the paintings that John (Trevor Morgan) showed to Serov (Armin Mueller-Stahl) when asking him for advice in the beginning of the movie were the exact paintings that Gallo as a teenager had showed Cherepov! The story of the young 18 year-old aspiring artist John Talia, Jr. (Trevor Morgan)- who is mostly misunderstood by his homophobic father (Ray Liotta) thinking that his son must be a homosexual because he enjoys drawing male nudes, was enlightening... real values against contemporary values of the 1974 New York! When John discovers that his idol, aging master, Nicoli Seroff (Armin Mueller-Stahl), lives nearby, he begs the old man to take him on as an apprentice. The invigorating young man has no idea that what he'll find is an embittered old alcoholic who has lost not only his enthusiasm for painting but for living. It is a movie which doesn't offer too much new, it is all very familiar and predictble but when we have an argument of old real values against contemporary questionable artworks, this doesn't count as a disadvantage. Cat Stevens songs are used to set the mood... and after that prepare yourself to see shades of the Karate Kid in Local Color, especially the mentoring-style of sensei Mr. Miyagi (who was also mourning the loss of his wife)! During the ensuing months, John is introduced to the intricacies of landscape painting by the troubled Seroff as well as the pleasures of romance with a beautiful neighbor (Samantha Mathis). Along the way, there are many passionate discussions about art, fueled by the presence of Seroff's argumentative art dealer friend (Ron Perlman). If you are an art lover, there is plenty to enjoy in this movie and beautifully photographed in widescreen to take full advantage of its gorgeously scenic Louisiana locations (substituting for Pennsylvania), the film is best appreciated on the big screen. In these suroundings it is impossible not to enjoy the sensitive performances by Morgan, Mueller-Stahl, and Diana Scarwid as John's empathetic mother.

This was a terrific film, based on a true story, concerning an untrained, struggling young artist who finds a mentor to help him understand what painting, and life, is all about. Marvelous performances from a wonderful cast that included Armin-Mueller-Stahl as the older, established and reclusive artist, Nicholai Seroff; Trevor Morgan as the young man, John; Samantha Mathis as Carla, a sad young woman who has faced a lot of tragedy in her life and who is friends with Nicholai; and Ray Liotta, Diana Scarwid, Charles Durning, and Ron Perlmen. The story was somewhat predictable and in some ways was quite similar in tone to Billy Elliot, with a father (Liotta) and mother (Scarwid) who don't understand thier son's passion, or his fascination with this older, Russian (and probably Commie), man who may or may not have ulterior motives in taking their son under his wing. But the excellent performances bring this off without resorting to stereotypes or to formula. Both men are landscape painters, primarily and there is some breathtaking scenery on display here. It was fascinating to watch the interplay between these two strong personalities, and to watch their relationship develop. The process of learning to "see" the world and to bring it to life under the brush was also fascinating. Ron Perlman was an absolute hoot as a pompous, effeminate art critic and dealer who was nevertheless friends with the great man. A thoroughly enjoyable experience.

Another Independent Film from Monterey. Amin Mueller-Stahl plays his part nothing short of outstanding. This film is about a your art student who wants to study under the Russian Artist Nicholi Saroff, This is an excellent film based on a true story, John Talia spends the summer and develops a friendship with Saroff. Very Enjoyable 5 Stars

Local Color was an enjoyable movie to watch. It brought you in to the world of painting and it was interested to see how they can put life on canvas. The characters struggled with their fears and shortcomings while following their dreams and doing anything to make them come true. The movie made you laugh, because it had some funny moments and also made you feel the frustrations of the characters. The lead character John was faced with many difficult challenges as he struggled to become a respected painter, but as the movie progressed, he found real friendship in his teacher and he taught him to find confidence while expressing his feelings on canvas. A wonderful movie to watch.
See Details