Lost Boys of Sudan
(2004)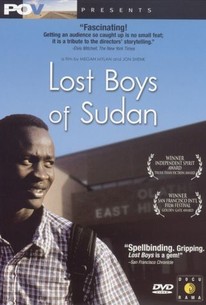 Movie Info
Megan Mylan and Jon Shenk's award-winning documentary Lost Boys of Sudan examines what happens when a pair of Sudanese boys, orphaned due to a civil war in their home country, are allowed to live for a year in the United States. Santito and Peter must contend with extreme examples of culture shock, while also figuring out how to negotiate a world that is physically safe but emotionally and intellectually foreign to them. Unlike many documentaries, the film does not employ a voice-over narration.
Critic Reviews for Lost Boys of Sudan
Audience Reviews for Lost Boys of Sudan
[font=Century Gothic]Two recent documentaries about current affairs for your perusal:[/font] [font=Century Gothic][/font] [font=Century Gothic][color=darkslategray]"Deadline" is a powerful, provocative documentary about the clemency hearings held by outgoing Republican Governor George Ryan of Illinois in 2002 to explore the death sentences of all 167 death row prisoners after some death row prisoners were found to be exonerated of the charges against them. The documentary explores the history of the death penalty (where one interviewee claims it was used to lynch blacks in the South) to the 1972 Supreme Court decision Furman v. Georgia that temporarily suspended the death penalty(and there are interviews with former prisoners who are alive because of that very decision) to when it was applied again with the execution of Gary Gilmore a few years later. What the film states is that in a perfect world, the death penalty would be used to execute the worst of the worst(for example, John Wayne Gacy) but this is a world with inadequate defenses and coerced confessions.(In a perfect world, I would still be against the death penalty.) If somebody were to be executed, then there is no room for error. This excellent documentary keeps everything on a human level, by interviewing various people who are involved in the criminal justice system, along with several past and current death row inmates. That way, the viewer gets to see what is at stake here.[/color][/font] [font=Century Gothic][color=darkslategray][/color][/font] [font=Century Gothic][color=darkslategray][color=dimgray]"Lost Boys of Sudan" is about a group of young men who grew up in Sudan, forced to flee because of civil war to neighboring Kenya to live in a refugee camp. They are eventually allowed to emigrate to the United States. The documentary focuses on two of the men - Peter and Santino. At first they both live in Houston but eventually Peter moves to Kansas where he attends high school and better socializes than Santino. It's interesting seeing the men acclimate to living in the United States but there is nothing here that we have not seen before, especially in the superior documentary, "Balseros."[/color] [/color][/font]
Lost Boys of Sudan Quotes
There are no approved quotes yet for this movie.