Lost In Austen
(2011)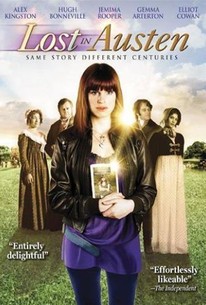 AUDIENCE SCORE
Critic Consensus: No consensus yet.
Critic Reviews for Lost In Austen
There are no critic reviews yet for Lost In Austen. Keep checking Rotten Tomatoes for updates!
Audience Reviews for Lost In Austen
½
Oh my gosh!! I absolutely LOVED this movie! I have always been in love with movies set in this time period, and to watch someone just like me actually be able to be a character in Pride and Prejudice was just so much fun to watch. What a wonderful idea, and very well done!!
Cynthia S.
Super Reviewer
Good premise but bad execution. Overall, the acting was not very good and the storyline gets a little bit ridiculous at some point with all its twists.
½
My goodness what a strange movie. It had a great premise but I'm unsure how I feel about the execution. Amanda is truly obsessed with "Pride and Prejudice." One day, she walks through a door and into her favorite book while Elizabeth Bennet walks into the real world. DO NOT READ FURTHER IF YOU DON'T LIKE SPOILERS The thing I don't like about this movie is all the hidden subplots that sort of almost ruin Jane Austen's original creation. For example, Georgianna wasn't really compromised... she threw herself on Whickham and when he refused her, she made up a story to Darcy to get back at him. Miss Bingley is actually a lesbian and Mr. Collins is a sicko who rubs himself through his pocket and sniffs his hands heartily. The things I DO like about the book are seeing all the characters I love react when presented with a modern day woman and her culture and values. It was very realistic such as Darcy stating that he's unable to be with Amanda because she is not a virgin. I would definitely have loved to see more of how Elizabeth was coping in the real world. That may have actually been a more interesting movie than watching Amanda try to correct all the problems that are happening around her such as Mr. Collins marrying Jane and Lydia running off with Mr. Bingley.
Dannielle Albert
Super Reviewer
Lost In Austen Quotes
There are no approved quotes yet for this movie.