Love Is a Many Splendored Thing
(1955)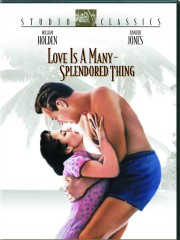 Love Is a Many Splendored Thing Trailers & Photos
Movie Info
Set in Hong Kong during the Korean War, Henry King's drama is an account of the romance between an American journalist (William Holden) and a Eurasian doctor (Jennifer Jones).
more
20th Century Fox Film Corporation
Cast
News & Interviews for Love Is a Many Splendored Thing
Critic Reviews for Love Is a Many Splendored Thing
Audience Reviews for Love Is a Many Splendored Thing
½
Love really is a many splendored thing, but you wouldn't know it by seeing this movie. Jones plays a woman doctor who's part Chinese and falls in love with an American guy, but she keep stressing over the fact that she's part Chinese as if that should keep them apart somehow, I mean no one can tell she's part Chinese so who cares? This movie got on my nerves.
½
"love is a many-splendored thing" is adapted from "shuyin" which is an autobiography of some eurasian doctor's interracial romance with an american correspondent stationed in hong kong to cover up the story of korean war. and the casting of jennifer jones as the conflicted eurasian beauty is suspiciously accorded by the hollywood racial segregation code, but some other eurasian character is played by real asian in dyed blonde hair. surprisingly, the result is far from the campiness which usually infiltrates within movies of this genre. of course, it's william holden's another trial as romantic lead. allegedly holden also shaved his hairy chest just to look more appealing to female audience in the beach scene where he's required to be topless.

in spite of jennifer jones' antagonism over william holden on the set, the two leads basically pull off a quite convencing job as fervent couple struggling their limited days to be heads over heels in love. as the scenario mentioned in the last paragraph, the story is dubbed with some depth to a degree because of its willingness to gaze upon the racist prejudice then, jones' suyin is a dignified eurasian who chooses her chinese side like every hybrid at that time (strangely any enthnicity mixed with caucasian would be considered anything but the caucasian.), uttering words of cynicism like "it depends upon whether my european side or chinese side wants to accept you as my date" to manifest her dichotomized self-identification. she's nothing like the subvervient oriental girl who pleads for the chivalry of white man to rescue her from the gutter like old hollywood movies, jones' character is intelligent and well-educated without the abrasive affected chinese accents adopted by yellow-face actress like louise rainer in "the good earth". as a matter of fact, jones even oozes a timid aura of demureness which is classic oriental elegance (which myself lacks greatly), and her slander well-porportioned figure is ideal for chinese cheongsam, enhanced with her illuminous ebony hair, jones' striking beauty fits into the niche of oriental aesthetism. beyond all, jennifer jones transcends the boundary of occident and orient, she just appears breath-takingly gorgeous in a cosmopolitan way.

there's another counterpart of jones' shuyin would be shuyin's fellow eurasian friend who breaches her hair into blonde that symbolizes her stance as the philander to the west. but why can't eurasian be considered another kind of caucasian but another sort of chinese? i suppose such dispute shall be left for the mass to probe upon it. after all, white supremacy is such a dated, obsolete issue to discuss since barrack obama is the president of united states right NOW just like charlie chan is dead in america. no matter how well jennifer jones adapts into the oriental customes with her cosmopolitan beauty, it is still quite an odd and peculiar idea to have a caucasian actress to play an eurasian woman in ebony hair, who favors her chinese side; a sheer asian actress to perform an eurasian in platium hair. who nullifies her yellow side to appear white. that may be the only campy attribute in this film.

the value of "love is a many-splendored thing" is its volunteer to go unrepetantly astray from the yellow-face cliche within its time but still preserve a sort of nostalgic aesthetism on romance. its usage of butterfly on the shoulder as a halting of blissful happiness is poetic and it presents the kaleiscopic side of hong kong during the british colonial days when you could still see well-dressed aristocrats and rich bourgeois in human-carriages, an intriguing showcase of semi-explored lushness of prosperous industrialization and rural agriculture. and it does win an oscar for best costumes due to jennifer jones' glittering demonstrations over edith head who complains this film just went thru a big shopping spree in chinatown for its clothings. i assume it's the best interracial romance movie ever in hollywood history with its protagonists NOT in two-dimensional stereotypes despite william holden does appear awkward as romantic lead but the scene of holen and jones metaphorically making love by igniting a cigarette does have a many-splendored thing about it.
Veronique Kwak
Super Reviewer
Love Is a Many Splendored Thing Quotes
Discussion Forum
Discuss Love Is a Many Splendored Thing on our Movie forum!
News & Features