Love, Ludlow
(2004)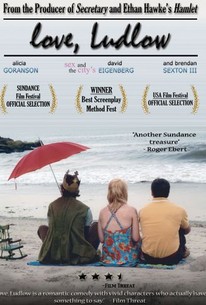 Movie Info
Alicia Goranson, Brendan Sexton III, and David Eigenberg star in director Adrienne Weiss' affectionate tale of sisterly devotion versus romantic yearning. By day, Queens native Myra (Goranson) has a reputation as hard-working firecracker of an office clerk who's not afraid to speak her mind, but by night, the outwardly hardened office worker goes soft as she lovingly caters to the needs of her artistically driven but emotionally unstable brother Ludlow (Sexton III). As Myra's burgeoning relationship with kind-hearted office employee Reggie (Eigenberg) begins to take a turn for the serious, the resulting tug of war waged for Myra's affection finds the emotional Ludlow lashing out and attempting to sabotage his sister's burgeoning romance. Though Myra's devotion to her troubled brother has always thus far resulted in a virtually non-existent social life, the prospect of following her strong feelings for the sweet and sensitive loner finds the encumbered sister struggling to find a comfortable middle ground between her senses of love, responsibility, and freedom.
News & Interviews for Love, Ludlow
Critic Reviews for Love, Ludlow
Audience Reviews for Love, Ludlow
½
Well intentioned small movie. I liked it rather than loved it, have to admit to a bit of boredom mid way through and distraction, but by the end it had sucked me in again. Myra (Alicia Goranson) is a spiky 22 year old who lives with her brother, Ludlow, who appears to be autistic or has some other mental problem. Their mother committed suicide many years back, and the father does not seem to be on the scene. When Reggie, a guy from the office she works in asks her out, Ludlow becomes jealous and unreasonable. It is a very small film, as previously stated, but I did like it, and though the strangeness of all the characters took some getting used to, it's quirks did grow on me. My main reason for purchasing this one was to see Alicia Goranson - she was my favourite "Becky" on Roseanne, and I was interested to see her do another character. I can't say she is the most convincing actress in all honesty, but there is something about her. The DVD itself was a crashing disappointment - rarely have I seen such a poor transfer - it is grainy and the picture flicks dark then bright. Not a help in appreciating this movie, I have to say.
Nicki Marie
Super Reviewer
A sweet and tender love story that brings two unlikely loners together in a way that feels natural, not forced in any way. As one character says, "We've had one kiss and two fights." Myra (Alicia Grayson) is a cute, feisty New Yorker, working as a temp at a nebulous office, who has primary care responsibilities for her mentally ill brother, Ludlow (Brendan Sexton III). David Eigenberg (who played Steve on Sex and the City) plays to type as Reggie, a mousy junior executive who takes an interest in Myra and gets relationship advice from a buffoon, Storkelson (Jay Patterson). The laughs are pretty low key, and there are times when Ludlow's antics seem overly childish and staged, but the way these two characters feel each other out, and dodge and feint, and the obstacles they have to overcome make the viewer feel invested in seeing them find happiness together and serve to overcome any of these minor quibbles.
Mark Abell
Super Reviewer
Interesting movie, very touching!
Love, Ludlow Quotes
There are no approved quotes yet for this movie.