Love, Simon
(2018)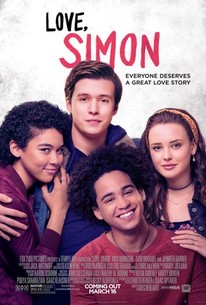 TOMATOMETER
AUDIENCE SCORE
Critic Consensus: Love, Simon hits its coming-of-age beats more deftly than many entries in this well-traveled genre -- and represents an overdue, if not entirely successful, milestone of inclusion.
Movie Info
Everyone deserves a great love story. But for seventeen-year old Simon Spier it's a little more complicated: he's yet to tell his family or friends he's gay and he doesn't actually know the identity of the anonymous classmate he's fallen for online. Resolving both issues proves hilarious, terrifying and life-changing. Directed by Greg Berlanti (Riverdale, The Flash, Supergirl), written by Isaac Aptaker & Elizabeth Berger (This is Us), and based on Becky Albertalli's acclaimed novel, LOVE, SIMON is a funny and heartfelt coming-of-age story about the thrilling ride of finding yourself and falling in love.
News & Interviews for Love, Simon
Critic Reviews for Love, Simon
Audience Reviews for Love, Simon
The movie has just enough charm to give it a pass for the soap opera plot.
Alec Barniskis
Super Reviewer
½
A sweet coming out story that normalizes being gay, however, hits some standard beats in the coming-of-age genre and occasionally forces sentimentality upon its subjects. The representation and joy the film depicts makes up for its overall lack of nuance. Let there be more pictures like Love, Simon, and hopefully in the future, add some subtlety. What we have now, though is a film that could ease the pain of many teenagers and those who see themselves in Simon's plight, and help them accept who they are. Rating: 71
½
WHO LOVES YOU, BABY? - My Review of LOVE, SIMON (3 1/2 Stars) The poster reads: Everyone Deserves A Great Love Story. I would add that each generation deserves a great teen movie. Think back to REBEL WITHOUT A CAUSE, BYE BYE BIRDIE, AMERICAN GRAFFITI, SIXTEEN CANDLES, HEATHERS, ELECTION, MEAN GIRLS, and PERKS OF BEING A WALLFLOWER for a small sampling over the decades. During those formative years, I think everybody looks back so fondly on this specific genre. Now, director Greg Berlanti and writers Elizabeth Berger and Isaac Aptaker have adapted Becky Albertalli's novel "Simon vs. the Homo Sapiens Agenda" to create something groundbreaking, the first major studio film to have a gay teen lead character. Love it or hate it, like BLACK PANTHER, this film has the potential to inspire generations of kids who have never seen themselves at the center of a story. Back in 2005, the success of BROKEBACK MOUNTAIN seemed to indicate that the studios would produce more films with leading gay characters. It didn't happen, so here we are at another crossroads, where the very successful TV producer, with a roster of Superhero shows to his credit, and who started his career with the gay film, THE BROKEN HEARTS CLUB, become the great gay hope of saving gay cinema. It's hardly fair to expect such an outcome, considering the multitude of filmmakers who have produced much more layered, experimental fare than LOVE, SIMON...but Simon has made it into the multiplexes and national ads...so he feels the pressure. So is it any good, and how does it stack up against the great teen movies? Not great, but not bad either. It's a calculated film, devoid of anything too controversial, filled with a surprisingly diverse cast, and hedging its bets at times. You're not gonna hear any character say anything as remotely inspired as "Fuck me gently with a chainsaw. Do I look like Mother Teresa?" in this film. LOVE, SIMON operates firmly in the "Young Adult" genre that has seen great success with the megahit THE FAULT IN OUR STARS. That movie seems to provide the template - a slightly comedic, but mostly serious tone. What I hated more than anything was the opening moment. Simon (Nick Robinson of JURASSIC WORLD), who lives with his perfect family (Jennifer Garner, Josh Duhamel, and his kid sister/aspiring chef, played by the wonderful Talitha Bateman), bounds out of their McMansion and into a fancy SUV as he says in voiceover, "I'm just like you". I immediately recoiled, wondering how anyone living in a dumpy hovel would relate to this. Now I know I'm not the target audience for this film, and the story lives firmly inside upper middle class suburbia, but it felt tone deaf right off the bat. Things eventually kick in as we explore Simon's world, filled with good friends, old and new. From the trailers, however, you know that Simon has a secret - he's gay and not ready to share that with the world. Instead, he develops an e-mail relationship with another closeted gay kid, both of them anonymously baring their souls to each other. Simon spends the rest of the story trying to figure out the identity of this "pen pal", with whom he's fallen in love. As such, the movie has a whodunit structure, filled with sly misdirects and an 11th hour surprise. It's a surprisingly rich film, filled with characters, despite the overall edge-free tone, who all get their moments of substance. Although nowhere near as affecting as Michael Stuhlbarg's big moment in CALL ME BY YOUR NAME, Garner and Duhamel each have wonderful scenes when their son comes out to them. Duhamel, in particular, made me cry. Katherine Langford, Alexandra Shipp, and Jorge Lendeborg Jr. all have a sweet, snappy rapport with our hero, and storylines to suggest their lives don't just revolve around him (a refreshing thing for this genre), but it's all pitched at a rich kid blandness level at times. The people Simon suspects of being "Blue", the name of his pen pal, get able portrayals as well from the likes of Joey Pollari (great in AMERICAN CRIME), Miles Heizer, and Keiynan Lonsdale. It doesn't help that Simon himself is a bit of a bore. Robinson has a strong presence, but I just wanted him to be funny more often. Think of Molly Ringwald's deliciously mouth-breathing Samantha Baker in SIXTEEN CANDLES as she reacts to her panties on display in that famous scene. She's delightfully captivating. Winona Ryder furiously writing notes while sporting a monocle in HEATHERS held you firmly in her grips. Simon, on the other hand, while not ashamed to be gay, feels sullen and receding. While the mystery storyline will likely keep you guessing throughout, the big reveal felt a little false. I do love that two teens learn to love what's inside of someone before seeing the exterior, but in reality, I couldn't help but think that Simon counted his lucky stars that he found his crush attractive. Part of me was hoping the big reveal would turn out to be a female character who is a lesbian. But this is a teen romance and not an LGBT Summit Meeting! Trouble comes in the form of Martin (Logan Miller), the closest the film has to a villain, as a guy who threatens to out Simon if he doesn't fix him up with his friend Abby. Luckily, even Martin gets an empathetic portrayal, with Miller reminding me of a slightly wilder version of Breckin Meyer's character in CLUELESS. I mean, seriously, there's another example of a film with a main character who shines. Come on, Simon, lighten up! I could have done with less Tony Hale (VEEP) as the Vice Principal with a streak for showboating comic relief, but I enjoyed a few of his moments. Same goes for INSECURE's Natasha Rothwell, who adeptly steals every one of her scenes as a beyond-over-it drama coach. If only the central character had been Ethan (Clark Moore), an out gay kid with the hard shell and "reading" abilities of the best queens from RuPaul's Drag Race. Now THAT would have been a central gay character who pops, but, alas, the studios just aren't "there yet". Baby steps I suppose. LOVE, SIMON, despite the many people of color in the film, is a white movie for the masses. I can't fault it for that, but it's not the most original gay film ever made. For those experiences, go to your local LGBT Film Festival or flip through your streaming options. If this movie causes its audience to do that, then thank you Greg Berlanti and co. for helping to pave the way.
Glenn Gaylord
Super Reviewer
Love, Simon Quotes
There are no approved quotes yet for this movie.