Lovers and Lollipops
(1956)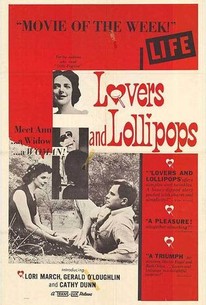 AUDIENCE SCORE
Critic Consensus: No consensus yet.
Lovers and Lollipops Photos
Movie Info
Lovers and Lollipops is a reverse "generation gap" quickie with a dash of charm to help it go down. Ruth Orkin plays an attractive widow with a headstrong daughter (Lori March). Ruth wants to marry a go-getting businessman, played by Gerald S. O'Loughlin. March won't hear of it, and digs in her heels at the prospect of momma taking the vows. Filmed in New York, Lovers and Lollipops is obvious but amiable stuff; its utter lack of star names doomed it to an early TV berth.
Critic Reviews for Lovers and Lollipops
Audience Reviews for Lovers and Lollipops
The second and final movie directed by Morris Engel and Ruth Orkin together, Lovers and Lollipops defies the traditional school of filmmaking to create something organic and naturalistic feeling. It feels like a documentary, looks like photo journalism, and is 100% guerrilla film-making. The lovers of "Lovers and Lollipops" are Ann and Larry, a pair of old friends recently re-united and looking to spark up an old romance. Their only obstacle seems to be Peggy, Ann's daughter by a previous marriage, who doesn't mind all Larry's presents, but would rather have her mom all to herself. There's so much to see here, and 1950s New York City is the co-star of the film. The three spend a great deal of the movie doing tourist-y things such as visiting the Statue of Liberty, Central park, and the Museum. The filmmakers use limited dialogue, choosing instead to tell the story through pictures and actions. When the lovers embrace for the first time, we witness it through the eyes of Peggy, as she peers through the crack of her open bedroom door. the scene closes as the door closes, until finally the screen is black. The little girl is a natural actor, and is able to steal away any scene she's in. The lollipops can be found on a trip to the beach, when Larry gives her a handful of them, but Ann tells her not to eat them all at once. Of course the little girl ignores her and sets about sticking them all in a row in the sand and licking them assembly line-style (sand and lollipops just CAN'T be a good combo). It's a slice of life from a movie that is just alot of little slices put together.
Devon Bott
Super Reviewer
Lovers and Lollipops Quotes
There are no approved quotes yet for this movie.