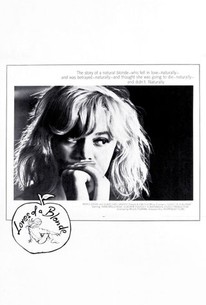 Loves of a Blonde
1965, Comedy, 1h 28m
17 Reviews
2,500+ Ratings
Rate And Review
Movie Info
Andula (Hana Brejchova), an innocent Czech girl from a factory town, is desperately in search of love. She believes she's found it when she beds Milda (Vladimir Pucholt), a charming young musician visiting from Prague. Milda, however, is only looking for a casual encounter, and leaves town assuming he'll never see Andula again. But when Andula doesn't hear from him, she packs up and heads to Prague, to the surprise of Milda and his parents (Milada Jezkova, Josef Sebanek).
Audience Reviews for Loves of a Blonde
I love how each act of this film focuses on different characters, a background character in one part of the film is a main character in another, without being gimmicky.

The first efforts by Forman are also his best. What puzzles me with this film in particular is how audiences are interpreting the emotional evolvement of Andula throughout her love discoveries. People credit this film to show a great deal of empathy towards youth in the complex world of relationships and how differently two people may interpret one shared relationship. So, that's the purpose of this masterpiece but not necessarily its strong point. Forman hires a great number of good screenwriters to develop his story to construct real-life scenarios and mock at them with intelligent humor. Visually referencing Godard (also psychologically), such humor takes these scenarios and converts them into something unbelievable throughout, but only for brief moments, especially those that normally would be awkward. If you pay attention, you'll see why this is labeled as a comedy beyond the plot and its arguments. 99/100

This film wasn't that engaging, but I really liked it.

Scenes like the one with the three male friends at one table and the female friends in another, plotting out ways to approach the ladies to ask them out without looking like complete jerks but failing miserably; or even more important and awkward, when the young pianist Milda arrives home early morning, after partying all night, and finding the blond girl Andula sleeping in his bed, he doesn't even remember her, and his annoying mother murmuring sermons about responsability. Slices of life, mundane, unglamorous, pathetic, embarrasing, funny and tragic, like it all could turn out when you fall in love. Some of these situations will certainly shape a new concience and stronger armor in the blond's heart. She will take note of all these thinkings in a lonely corner of the noisy spot where she makes a living. A warm and sincere view to the window of a woman's soul.
See Details