Loves of a Blonde (Lásky jedné plavovlásky)
(1966)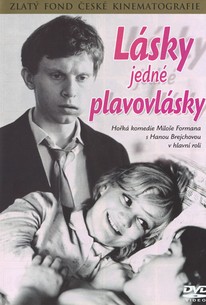 Movie Info
Out in the Czech countryside, a shoe factory owner petitions the People's Army to station a division of soldiers in his town, where the women outnumber the men sixteen to one. The arrival of the troops is greeted with great excitement, but the girls in the town are disappointed to see that the men are older reservists, and not the strapping young men they'd envisioned. Still, when a band plays at the local pub, the girls show up to be ogled by the older men, many of whom are married. A trio of reservists sends a bottle of wine to Andula (Hana Brejchova), Marie (Marie Salacova), and Jana (Jana Novakova), and the girls argue over whether or not to acknowledge the gesture. But Andula catches the eye of the comparatively dashing young pianist, Milda (Vladimir Pucholt). Milda convinces Andula to go to his room, where he seduces the mildly reluctant girl. The next morning, the traveling musician assures her repeatedly, "I do not have a girlfriend in Prague." Milda leaves town, as expected, but Andula has fallen in love with him, and decides to journey to Prague to track him down. A low-key black-and-white ensemble comedy, Loves of a Blonde was cast predominantly with non-professional actors. The film was nominated for an Oscar for Best Foreign Language Film, drew a lot of attention to the "Czech New Wave," and jumpstarted the international filmmaking career of director Milos Forman (One Flew Over the Cuckoo's Nest). ~ Josh Ralske, Rovi
Critic Reviews for Loves of a Blonde (Lásky jedné plavovlásky)
Audience Reviews for Loves of a Blonde (Lásky jedné plavovlásky)
A naive factory worker falls for a traveling piano player after a one night stand, only to have her heart broken when she travels to Prague and discovers that the loser still lives with his parents. Years before Milos Forman directed one of the best films ever made, One Flew Over the Cuckoo's Nest he directed this little gem. Lásky Jedné Plavovlásky may be set in Czechoslovakia but it has universal appeal. Most of us can relate to the powerful attraction of a first love, or the oppression of an overbearing mother, or the heartache of finding out that someone you love doesn't love you back. Not Forman's best work, but still pertinent and charming.
Randy Tippy
Super Reviewer
½
This film wasn't that engaging, but I really liked it.
Michael Gildea
Super Reviewer
½
Scenes like the one with the three male friends at one table and the female friends in another, plotting out ways to approach the ladies to ask them out without looking like complete jerks but failing miserably; or even more important and awkward, when the young pianist Milda arrives home early morning, after partying all night, and finding the blond girl Andula sleeping in his bed, he doesn't even remember her, and his annoying mother murmuring sermons about responsability. Slices of life, mundane, unglamorous, pathetic, embarrasing, funny and tragic, like it all could turn out when you fall in love. Some of these situations will certainly shape a new concience and stronger armor in the blond's heart. She will take note of all these thinkings in a lonely corner of the noisy spot where she makes a living. A warm and sincere view to the window of a woman's soul.
Pierluigi Puccini
Super Reviewer
Loves of a Blonde (Lásky jedné plavovlásky) Quotes
There are no approved quotes yet for this movie.