Lullaby
(2014)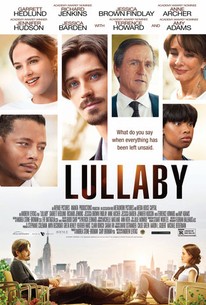 Movie Info
LULLABY explores the power of life, its transformative moments, and reconnections between loved ones. Estranged from his family, Jonathan (Hedlund) discovers his father has decided to take himself off life support in forty-eight hours' time. During this intensely condensed period, a lifetime of drama plays out. Robert (Jenkins) fights a zero sum game to reclaim all that his illness stole from his family. A debate rages on patients' rights and what it truly means to be free. Jonathan reconciles with his father, reconnects with his mother (Archer), sister (Brown-Findlay), and his love (Adams) and reclaims his voice through two unlikely catalysts - a young, wise-beyond-her-years patient (Barden) and a no-nonsense nurse (Hudson). Through this intensely life affirming prism, an unexpected and powerful journey of love, laughter, and forgiveness unfolds.(c) Arc Entertainment
Rating:
R (for language and brief drug use)
Genre:
Directed By:
Written By:
In Theaters:
On DVD:
Runtime:
Studio:
Arc Entertainment
News & Interviews for Lullaby
Critic Reviews for Lullaby
Audience Reviews for Lullaby
I loved this film! I can't believe it's only just came to Sky Premieres or that I never noticed it when it was released. Such an emotional moment in a families life conveyed in film. Fabulous cast!!!
Charina Cotton
This is a very powerful movie. Lessons of love, friendship and, most importantly, appreciation of one's family are found throughout this brilliant film. Levitas really knocked this one out of the park, and the all-star cast (namely Jenkins) was the cherry on top.
Private User
★★★ (out of four) "Lullaby" walks a tight rope between over-the-top melodrama and undeniable human emotions. When it doesn't know how to gain sympathy for its characters it sets them up on patronizing events so that the audience with start to like them better. On the other hand, the film strikes a cord with its depiction of losing a parent. I recently went through this, as many others have. Many of these moments have the ring of truth. I felt and acted the way the characters did, and I'm sure writer/director Andrew Levitas did as well. How else could he have known? Jonathan (Garrett Hedlund) has been estranged from his family for several years. Now, he is headed back to New York City. His father (Richard Jenkins) is in the hospital, dying of cancer, and wants his wishes of being taken off life-support, fulfilled. The reunion between Jonathan and his sister, Karen, is not a welcome one. The fighting between the two, as well as with the parents escalates, especially when Karen files legal papers in order to prevent the father from being taken off life support. I like Garrett as an actor. He has a "James Dean" vibe. Anne Archer, as his mother, is radiant, and there is decent support from actors like Amy Adams, Terrance Howard, and Jennifer Hudson. I wished some of the unneeded filler scenes had ended up on the cutting room floor. [IMG]http://img.photobucket.com/albums/v48/Zeppo1/Lullaby_zps2dbe197e.jpg[/IMG]
Steve Smith
Lullaby Quotes
There are no approved quotes yet for this movie.
Discussion Forum
Discuss Lullaby on our Movie forum!