Mad Monkey Kung Fu
(1980)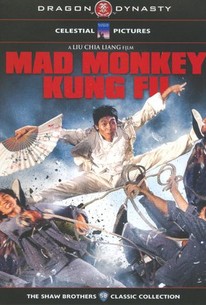 AUDIENCE SCORE
Critic Consensus: No consensus yet.
Movie Info
Lau Kar-leung spins this high-flying kung-fu saga about a Peking opera actor named Chen (played by the director), who, along with his beautiful sister (Kara Hui Ying-hung), is invited to dine with the dastardly and powerful Mr. Tuan (Lo Lieh). There Chen is slipped a mickey and when he comes to is accused of trying to rape Tuan's wife. Tuan offers to spare Chen's life if his sister becomes his concubine. The dealt is struck and Chen is cast into the street after getting his hands smashed by Tuan's henchmen. Years later, we find Chen struggling as a street performer with a trained monkey named Ah Mo. When Chen runs afoul of some gangsters, they kill his monkey. Just before Chen decides to snuff his own candle, he realizes that energetic street urchin known as Monkey (Hsiao Ho) would make a decent substitute for his former simian partner. After the two again run afoul of the same gangsters, Chen vows to teach Monkey kung-fu and soon thwarts the thugs. Later, he along with Monkey decides to take on Tuan and break his sibling out of sexual bondage.
Critic Reviews for Mad Monkey Kung Fu
There are no critic reviews yet for Mad Monkey Kung Fu. Keep checking Rotten Tomatoes for updates!
Audience Reviews for Mad Monkey Kung Fu
The usual themes of revenge and retribution are covered in the usual flurry of fists and feet in this formulaic but fun martial arts flick that never inspires, but won't fail to entertain fans of the genre.
Mad Monkey Kung Fu Quotes
There are no approved quotes yet for this movie.