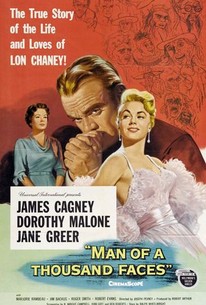 Man of a Thousand Faces
1957, Biography, 2h 2m
9 Reviews
1,000+ Ratings
Rate And Review
Man of a Thousand Faces Photos
Movie Info
Lon Chaney (James Cagney) is a charismatic young man breaking into vaudeville as a juggler and mime. He falls in love with his new assistant, Cleva (Dorothy Malone), but when he reveals that he grew up as the son of two deaf-mute parents, she reacts with horror and disgust. The psychologically unbalanced Cleva leaves Chaney shortly after their son is born, but when he moves to Hollywood, remarries and becomes a movie star, she returns in an attempt to get back into her son's life.
Audience Reviews for Man of a Thousand Faces
Twenty-seven years after his death Universal Pictures decided to resurrect the memory of Lon Chaney, one of their most notable stars with a biopic, no doubt in part in an attempt to stave off the successes of the burgeoning television industry. Chaney made a splash as an actor who is remembered less for his theatrical chops than for his creativity with makeup. James Cagney, notable in his own right, plays Chaney as a workaholic soul who is only alive while performing, and so his life at home suffers. Dorothy Malone plays that life at home who chaffs in her thinly ascribed given role. What is most interesting about the work is the social stigma of the times about being mute, the truest chord in the film. In a slap in of the face of the subject himself the make-up of all things, is second-rate, go figure.

The only thing I can think of is........WOW.What an awesome movie!!! It truly shows you what a GREAT actor Cagney is

A compelling look at early Hollywood with an outstanding performance from Cagney.
See Details