Man Push Cart
(2006)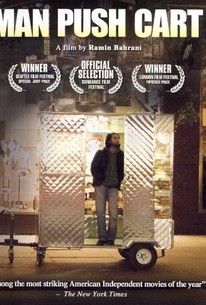 Man Push Cart Videos
Man Push Cart Photos
Movie Info
A former Pakistani rock star attempts to adjust to life in New York City while simultaneously making friends and selling coffee from a push cart on the streets of Manhattan in Iranian-American director Ramin Bahrani poignant, character-driven drama. By day Ahmad (Ahmad Razvi) tends to hurried Manhattan-ites by keeping their bellies full and ensuring that they are adequately caffeinated, and by night he supplements his income by selling bootleg porn DVDs. Though Ahmad hopes to one day raise enough money to purchase a place of his own and reunite with his estranged son, times are tough in the city and the hard-working immigrant soon strikes up a tentative friendship with fellow countryman Mohammed (Charles Daniel Sandoval); a generous but sometimes condescending soul who readily takes the fledgling New Yorker under his knowing wing while offering additional work decorating his apartment. Spanish immigrant Noemi (Leticia Dolera) works at a newsstand near Ahmad's cart, and also finds herself warming to the haunted former rock-star's timid ways. As Ahmad, Mohammed, and Noemi gradually begin to socialize together, a tragedy in Ahmad's past soon prompts the struggling New York newcomer to question the true nature of his current relationships. ~ Jason Buchanan, Rovi
Rating:
NR
Genre:
Directed By:
Written By:
In Theaters:
On DVD:
Runtime:
Studio:
Watch it now
Cast
Critic Reviews for Man Push Cart
All Critics (48) | Top Critics (18) | Fresh (42) | Rotten (6) | DVD (3)
Entertainment Weekly
Top Critic
Minneapolis Star Tribune
Top Critic
The makers of Man Push Cart seem so dedicated to making a film that defies Hollywood conventions that the finished product lacks enough entertainment value to justify price of admission.
San Francisco Chronicle
Top Critic
Michael Simmond's cinematography, especially in scenes of Ahmad muscling his way amid evening traffic and early-morning delivery trucks, is wonderfully true to the moods of a city that never sleeps and seldom nods at the hard work going on before it.

Shot in three weeks, Man Push Cart does a fine job of capturing the bitter flavor of Ahmad's life.

Denver Rocky Mountain News
Top Critic
Free of contrived melodrama and phony suspense, it ennobles the hard work by which its hero earns his daily bread.

Chicago Sun-Times
Top Critic
Audience Reviews for Man Push Cart
Immigrant finds life in the greatest city in the world less than advertised in this blah telling of one soul's dismal discovery of real life here. You're gonna need to be desperate to make it through this.
Kevin M. Williams
Super Reviewer
You want to like a film like this one. A simple human story, no budget and a young filmmaker with talent. But there is a new trend in film now called the "open ended movie" Not just an ending but the entire film is open ended. Now alot of films have been successful doing this because they give us characters we like or care about. This movie instead of showing us scenes to admire, relate, cheer for, fascinate or God forbid interest us in the character, we get him pulling his cart...yes pulling, not pushing. And after the 8th different scene of him pulling the cart i nearly gave up finishing the movie.
Paul Pastoor
½
[font=Century Gothic]In "Man Push Cart," Ahmad(Ahmad Razvi) spends the pre-dawn hours dragging his push cart through the cavernous avenues of Manhattan to his appointed corner where he serves coffee and bagels to commuters. At night, he makes the long trek back to Brooklyn, dragging along a propane tank. While buying cigarettes, he finds Noemi(Leticia Dolera), who is from Spain, manning the newsstand. And a fellow Pakistani, Mohammad(Charles Daniel Sandoval), recognizes Ahmad as a once famous singer from nis native Lahore...[/font] [font=Century Gothic][/font] [font=Century Gothic]Eschewing any kind of overt politics, writer-director Ramin Bahrani with "Man Push Cart" manages to deftly tell a sober tale about immigrants in post 9/11 New York by showing the city from their vantage point.(I am left wondering how he pulled off some of the shots in the movie.) To him, the immigrants are its backbone, especially Ahmad who works long hours unnoticed, serving up the lifeblood of the city. For once, repetitiveness works, giving a clear indication of what his life is like over the long haul.[/font]
Discussion Forum
Discuss Man Push Cart on our Movie forum!
News & Features