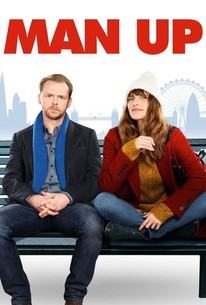 Man Up
2015, Romance/Comedy, 1h 28m
80 Reviews
10,000+ Ratings
What to know
critics consensus
Thanks to fine performances from Lake Bell and Simon Pegg, Man Up largely strikes the deceptively difficult balance between romance and comedy. Read critic reviews
Where to watch
Rent/buy
Subscription
Rent/buy
Rent/buy
Rate And Review
Movie Info
When a man (Simon Pegg) mistakes her for his blind date, a woman (Lake Bell) decides to play along to see what happens.
News & Interviews for Man Up
Audience Reviews for Man Up
Lake Bell and Simon Pegg generate sexy-silly chemistry playing two unlucky-in-love losers on a blind date...only Nancy isn't actually the girl Jack was set up with. The mistaken identity plot is satisfyingly coincidental, and the post-reveal misadventures walk a fine line between uproarious and moving. The title is somewhat of a sexist misnomer, but kudos for the (unintentional?) "Love Actually" tribute in the end. And I spotted Paul Thornley, the guy who plays adult Ron Weasley in "The Cursed Child"! Definitely one of those hidden Netflix gems that shouldn't be missed!

It's always refreshing to watch a brilliantly crafted and well-balanced romantic comedy that hits all the right chords while beating the tired clichés that swarm the genre. Man Up delivers laughs and just the right amount of nicely timed emotion to make for one of the best films of recent memory. The always witty Simon Pegg and breakthrough actress Lake Bell lead this charming romantic delight of a film. Pegg plays a 40's divorcee who hides his real feelings about his love life under a fast-talking and romantic personality on the outside. Bell, also with a troubled romantic history, is an unconfident and quirky 34-year-old who happens to find herself on a blind date with the former. As you can expect, the truth is eventually unveiled. My favorite part about this film is its ability to turn several rom-com clichés on their head. For every cliché, there's just as many unconventional turns the story takes, which I can appreciate. Simon Pegg's undeniable charisma along with Bell's guarded sensitivity and fresh screen presence makes Man Up more than just a run of the mill rom-com. As much as this film is a romantic comedy, you could make the argument it's quite the adventure as well. As the two of them explore their first *unplanned* night out together, they meet a variety of unique characters who push their short relationship in exciting directions. Certainly at times a particular character named Sean spins the film into a slightly goofier realm, but Bell and Pegg manage to bring it back to a more acceptable area. The awkward charm is definitely the film's biggest appeal. And I'm always game for a twist on the typical rom-com tale. I'm mad it took me so long to check this film out, but I'm grateful I finally did. Not only is it a refreshing take on the genre, but it will likely be a film I pick up and view more than once. +Pegg and Bell's chemistry +Score/soundtrack +British sense of humor +Romantic adventure 10/10

I've always been a fan of Simon Pegg, but make no mistake, this is Lake Bell's show, and she leads it very, very well. I've always said I'm not a romantic comedy type, I get the appeal, but it doesn't work for me. I don't know how strongly I can adhere to that statement after 2015 though, no less than three of my favourite films this year have been of the genre, and one even snuck its way into my top ten. I mean, it wasn't this film, but Man Up is still pretty good.

You know, there's nothing about this movie that is innovative or game-changing to the old and tired rom-com formula. In fact, honestly, it plays right into those same old cliches that a film like, say, Trainwreck tried, in a heavily flawed manner, to subvert. But, in all honesty, while giving it the same rating, I found this movie to be considerably better than Trainwreck. And that's not taking anything away from the latter, it's just that it had way too much filler which ballooned the length of the film two a staggering two hours and it wasn't a consistently funny film. It was certainly enjoyable in spurts, but its flaws kept it from truly transcending the genre it chose to subvert. This movie, on the other hand, keeps it simple and to the point. The film, being 88 minutes long, with credits, makes it so that the film really ends before you're ready for it to be over. And, realistically speaking, it's better to leave a party early than it is to leave a party when there's absolutely nobody left. Plus, when you have two immensely talented comedic actors in Lake Bell and Simon Pegg working together, then that just makes everything so much easier. Watching this is really effortless. Some little nitpicks, however, it's weird that they cast Lake Bell, an American actress, in a British role and it's strange that Simon Pegg took top billing over Lake, even though the film is really about Lake's character and her journey from cynic to romantic. Simon is indeed the bigger star of the two, so I get it, but it's still a film that's, really, largely about Lake's character. It's about the two of them, but Lake's character takes precedence. But, really, those are two incredibly minor complaints that didn't actually affect my enjoyment of the film at all. Just felt that it was worth mentioning. With that said, you can't really go wrong with Lake Bell and Simon Pegg as your leads. No idea if they've worked together before, but it almost seems like they've known each other for years due to their chemistry in this movie. I'm not trying to suggest that this is one of the best rom-com movies that I've ever seen, because it is not, but it might probably the most fun I've had watching one in a long-ass time. And it's not even that the movie is that consistently funny from beginning to end. While the movie was good and enjoyable, I think it was about the halfway point where things really picked up. Once Nancy and Jack head back to the pub and they meet up with Jack's ex-wife. There's plenty of funny bits in the film, but it really all comes back to Lake and Simon's chemistry. Like I said, the film pretty much plays into all of the rom-com tropes, but the leads definitely take that and they run with it and they do with it what they can, which adds up to a really fun little movie. Even though the film does use every cliche in the book, I still think the movie is well-written, Jack and Nancy are likable characters with personality. Nancy's cynicism, while not unique, is appropriately explained and Jack is a soon-to-be-divorced man who simply hasn't been able to get over his ex. Very basic stuff, but at least there's an effort made to give the characters some sort of personality or reason for being the way they are. There's the big 'break-up' and the big romantic gesture at the end to get Jack and Nancy back together. Again, what you've seen in every rom-com in existence. But, really, this is a really fun movie. Might not be what I would call a really good one, but I had so much fun watching this. This is entirely due to Lake Bell and Simon Pegg. Those two are great together and I know it's not gonna be your cup of tea, particularly if you're a cynic, and I would consider myself one, but I enjoyed this movie a lot and I would give it a hearty recommendation.
See Details