Man With a Movie Camera
(1929)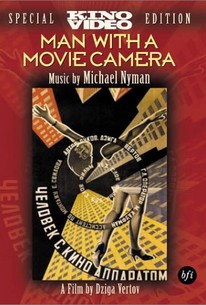 Man With a Movie Camera Photos
Movie Info
More widely known as Man With a Movie Camera, this radical (for it's time), freewheeling Russian documentary depicts the city of Moscow from sunrise to sunset. The still-innovative (or frustrating, depending on your tastes) silent was both praised and reviled upon its initial release.
News & Interviews for Man With a Movie Camera
Critic Reviews for Man With a Movie Camera
Audience Reviews for Man With a Movie Camera
Part documentary, cinema verite, and Avant-Gard art film, "Man with a Movie Camera" shows the everyday life of the 1920s Soviet Union. The disparity is evident, as the cameraman moves between the dissident streets of merchants and the poverty stricken, and elegant bourgeoisie riding in motor cars, their hats fluttering in the wind. Vertov melds together the documentary feel of a single day in his home country with the interconnecting narrative of the filmmaker, the audience, and the surreal. The surreal is constructed from film splicing that resembles special effects that would be recreated in many other art films of that decade. The film itself stands as an amazing historical record of the beauty, the poverty, this new nature of filmmaking, and the astonishing strangeness of the world at this time. Essential watching for those who love the craft of filmmaking, or love historical records of that time.
Spencer S.
Super Reviewer
½
This experimental documentary is a plotless record of life in the Soviet Union, mainly important as a then avant-garde catalog of camera tricks and editing experiments (many of which were pioneered in this film but are commonplace or obsolete now). Most non-film students will find this boring and want to stay far, far away, but it has its visually impressive moments, the issues it raises are rich, and it's too important in the history of cinema to give a poor rating.
A powerful film, showing the day, of a few, urban citys of Soviet Union. Present all the contrast of the happenings, and showing too how the born of a day have a similarity with an awaken of the woman in the screen and how start the movement in the towns. Man with a Movie Camera, is a amazing experience about the language of the cinema and with the help of the editing and others tricks on cinema tell storys. And in this way that, Vertov, without story or professionals actors, just the direction, photography and music, show the magic happen. Fresh.
Lucas Martins
Super Reviewer
Man With a Movie Camera Quotes
There are no approved quotes yet for this movie.