Marriage Italian Style
(1964)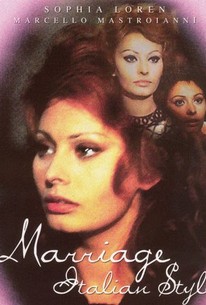 AUDIENCE SCORE
Critic Consensus: No consensus yet.
Marriage Italian Style Photos
Movie Info
In flashback, Marcello Mastroianni recalls his wartime romance with Sophia Loren. He is so enamored with her that he finances her escape from the bordello where she lives and sets her up with a good job in the restaurant that he owns, and later finds a place for her on his mother's domestic staff. He is not, however, enamored enough to make their union legal, and expects Loren to behave like a servant by day and his mistress by night. Years later, Loren lies on her deathbed. The contrite Mastroianni finally consents to marry her. Not only does she make a full recovery, but she brings her three grown sons to live with the nonplused Mastroianni after the wedding. He tries to weasel out of the arrangement, but is mollified by Loren's insistence that all three boys are his sons. Thus, after nearly twenty years' servitude, Loren is at last in a position to call the shots. Sold to American distributors on the basis of Sophia Loren's revealing costumes (some of these absolutely defy the laws of gravity), Marriage Italian Style remains a warm and spicy concoction today, even after years of less expert imitations. The film was based on Filumena Marturano by Eduardo de Filipo.
Critic Reviews for Marriage Italian Style
All Critics (3) | Top Critics (1) | Fresh (3) | Rotten (0)
It's a scenario that's milked (literally) for every drop of amusement.

A good deal soapier and ultimately less satisfying than De Sica's previous collaboration with Loren and Marcello Mastroianni, Yesterday, Today and Tomorrow, but it's still effectively heart-rending.
Audience Reviews for Marriage Italian Style
An Italian delight that finds an enviable balance between comedy and drama and never drops the ball, with Sophia Loren in a surprising performance lending a lot of complexity to a character that could have been easily made into a caricature - comedy- or melodrama-wise.
Carlos Magalhães
Super Reviewer
½
I loved this film and I absolutely love the chemistry between Mastroianni and Loren. The comedy is fantastic and the plot twists are an absolute delight.
John Ballantine
Super Reviewer
Sophia Loren and Marcello Mastroianni are wonderful together in "Marriage Italian Style" even when there's nothing but hate between them. Watching them interact with one another is almost reason enough to recommend "Marriage Italian Style," but there's more to it than just these two performers. The script is clever in how it continues to throw these two characters in and out of love with one another and in order for it to work it requires focused, cohesive direction, which Vittorio De Sica is willingly able to provide.
Stephen Earnest
Super Reviewer
Marriage Italian Style Quotes
There are no approved quotes yet for this movie.