Marriage Italian Style
(1964)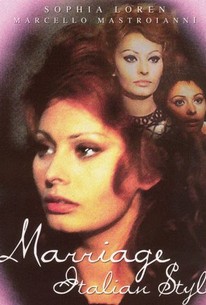 AUDIENCE SCORE
Critic Consensus: No consensus yet.
Marriage Italian Style Photos
Movie Info
In flashback, Marcello Mastroianni recalls his wartime romance with Sophia Loren. He is so enamored with her that he finances her escape from the bordello where she lives and sets her up with a good job in the restaurant that he owns, and later finds a place for her on his mother's domestic staff. He is not, however, enamored enough to make their union legal, and expects Loren to behave like a servant by day and his mistress by night. Years later, Loren lies on her deathbed. The contrite Mastroianni finally consents to marry her. Not only does she make a full recovery, but she brings her three grown sons to live with the nonplused Mastroianni after the wedding. He tries to weasel out of the arrangement, but is mollified by Loren's insistence that all three boys are his sons. Thus, after nearly twenty years' servitude, Loren is at last in a position to call the shots. Sold to American distributors on the basis of Sophia Loren's revealing costumes (some of these absolutely defy the laws of gravity), Marriage Italian Style remains a warm and spicy concoction today, even after years of less expert imitations. The film was based on Filumena Marturano by Eduardo de Filipo.
Critic Reviews for Marriage Italian Style
All Critics (3) | Top Critics (1) | Fresh (3) | Rotten (0)
It's a scenario that's milked (literally) for every drop of amusement.

A good deal soapier and ultimately less satisfying than De Sica's previous collaboration with Loren and Marcello Mastroianni, Yesterday, Today and Tomorrow, but it's still effectively heart-rending.
Audience Reviews for Marriage Italian Style
½
A film of surprising depth, with an excellent performance from Sophia Loren. I was really quite taken with the film, which is more drama than comedy, and about an unequal love affair between Loren and Marcello Mastroianni over a couple decades. Loren loves Mastroianni, but he sees their relationship more as a transaction: he gives her money, gets her out of prostitution, and gives her a place to stay; she gives him sex, keeps his house, runs his bakery, and takes care of his elderly mother. Meanwhile, he travels the world and sees other women. The tragic imbalance hits us right in the heart, and is heightened by Director Vittorio De Sica's storytelling, which is with a light touch, and uses flashbacks to gradually fill us in on the past, and just how unequal things are. Mastroianni is a bit of a villain here, but we hardly know it at the beginning, and De Sica lets the viewer connect the dots as the movie progresses. We can see the pain in Loren's face and read her mind, and often that's enough. The way the characters express themselves, the scenes in the streets of Naples - it all seems perfectly realistic, and a slice of life. The touches of comedy and lightness that are present balance out the story well. Better than 'Yesterday, Today, and Tomorrow', and on a par with 'Two Women'. What an extraordinary interval of time this was for Loren and De Sica.
Antonius Block
Super Reviewer
An Italian delight that finds an enviable balance between comedy and drama and never drops the ball, with Sophia Loren in a surprising performance lending a lot of complexity to a character that could have been easily made into a caricature - comedy- or melodrama-wise.
Carlos Magalhães
Super Reviewer
½
I loved this film and I absolutely love the chemistry between Mastroianni and Loren. The comedy is fantastic and the plot twists are an absolute delight.
John Ballantine
Super Reviewer
Marriage Italian Style Quotes
There are no approved quotes yet for this movie.