Daai cheung foo (Men Suddenly in Black)
(2003)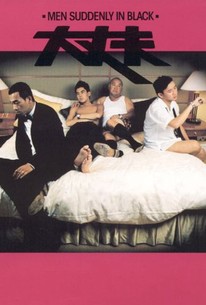 AUDIENCE SCORE
Critic Consensus: No consensus yet.
Daai cheung foo (Men Suddenly in Black) Photos
Movie Info
Ho Cheung Ping, who wrote the novel that was the basis for Fulltime Killer and made his directorial debut with the crime comedy You Shoot, I Shoot, returns to the parody genre with his second film, Men Suddenly in Black. Eric Tsang does a takeoff of his role in Infernal Affairs, playing Tin, the leader of a group of four men who enact an intricate plot to cheat on their significant others while the women are away for the day in Thailand. The others are Cheung (Jordan Chan), a relatively straight-laced doctor; Chao (Chapman To), the fun-loving goofball of the group; and Paul (Spirit Blue), Tin's virginal nephew. All their machinations threaten to unravel when they discover that their wives, played by Teresa Mo, Marsha Yuan, Tiffany Lee, and Candy Lo (The Eye), never left for Thailand and are following them. The men begin to suspect that there is a traitor in their midst. They face many obstacles, but they soldier on to honor "Ninth Uncle" (Tony Leung of Dragon Inn), who once took the fall for them when their wives showed up at their favorite strip club and who is now imprisoned in his home by his vengeful wife (Sandra Ng). The film presents all this material in the style of a typical Hong Kong action film, with many references to other films and cameos by Sammo Hung, Alan Tam, Maria Cordero, and others. Ping won Best New Director and Leung Best Supporting Actor at the 2004 Hong Kong Film Awards. The film was shown at the 2004 New York Asian American International Film Festival.
Critic Reviews for Daai cheung foo (Men Suddenly in Black)
Audience Reviews for Daai cheung foo (Men Suddenly in Black)
Great battle of the sexes comedy with one of those great endings that adds a touch of drama. You can bet money Hollywood will try to remake this one.
Anthony Valletta
Super Reviewer
Daai cheung foo (Men Suddenly in Black) Quotes
There are no approved quotes yet for this movie.