Mercury Man
(2006)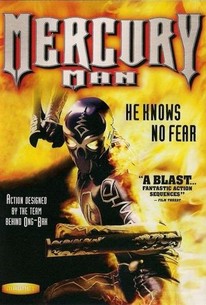 AUDIENCE SCORE
Critic Consensus: No consensus yet.
Movie Info
From the action team behind Ong Bak comes this thrilling tale of a fireman who is transformed into the ultimate super-hero. His body invaded by a supernatural substance of unknown origins, an unassuming fireman becomes an invincible superhuman with otherworldly powers. When a group of terrorists scheme to create a powerful new weapon in a maniacal bid to launch an apocalyptic holy war, it's up to Mercury Man to thwart their plans and save the day.
Critic Reviews for Mercury Man
There are no critic reviews yet for Mercury Man. Keep checking Rotten Tomatoes for updates!
Audience Reviews for Mercury Man
Weird, silly genre mashup. Interesting as a curio.
Superhero fans rejoice. What we have here is a sci-fi hero movie from Thailand. Let me just say that the budget of this movie isn't close to anything coming from Hollywood, but this film makes the most of what it had and is surprisingly better than I had expected.
The story is nothing really original by any means. Human receives super powers, trains, fights crime, then takes out the villains. With the exception of the dragging beginning, the movie moves at a decent pace and never really gets all that boring.
The "Mercury Man" character itself borrows elements from other movies. Mercury Man basically moves and saves the day in the style of Spiderman, but has the powers of Magneto, so instead of web slinging he pulls himself toward metal to move quickly. Of course, this is a Thai action film, so we need to have the Thai fighting style as well. So yes, Mercury Man, along with other characters, pull out the martial arts to provide more action. The fights are pretty good too. Almost up there with the likes of Tom Yum Goong.
The acting is what you would expect from a movie like this. OK, not great. It was nice to see some females kicking butt though. 3 of them to be exact. Speaking of kicking butt, the action is pretty plentiful once you reach the 40 minute mark. There are a couple of small fights early on as well, so don't be disappointed.
The CG in this film averages to be OK at best. At parts it looks pretty good and at others it doesn't. You do the math.
At the end of the day, this movie isn't anything really spectacular, but for a superhero movie it isn't all that bad. If you stumble across this film, feel free to give it a try.
Mercury Man Quotes
There are no approved quotes yet for this movie.