Meru
(2015)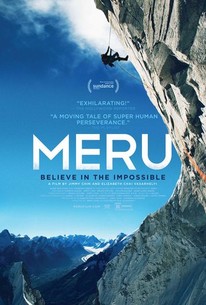 TOMATOMETER
AUDIENCE SCORE
Critic Consensus: Gripping visually as well as narratively, Meru is the rare documentary that proves thought-provoking while offering thrilling wide-screen vistas.
Movie Info
In the high-stakes pursuit of big-wall climbing, the Shark's Fin on Mount Meru may be the ultimate prize. Sitting 21,000 feet above the sacred Ganges River in Northern India, the mountain's perversely stacked obstacles make it both a nightmare and an irresistible calling for some of the world's toughest climbers. In October 2008, renowned alpinists Conrad Anker, Jimmy Chin and Renan Ozturk arrived in India to tackle Meru. Their planned seven-day trip quickly declined into a 20-day odyssey in sub-zero temperatures with depleting food rations. Despite making it to within 100 meters of the elusive summit, their journey, like everyone before them, was not a successful one. Heartbroken and defeated, the trio returned to their everyday lives, where the siren song of Meru continued to beckon. By September 2011, Anker had convinced his two lifelong friends to undertake the Shark's Fin once more, under even more extraordinary circumstances than their first attempt. MERU is the story of that journey, an expedition through nature's harshest elements and one's complicated inner demons, and ultimately on to impossible new heights. (C) Music Box Films
News & Interviews for Meru
Audience Reviews for Meru
This is the story of the first successful hike up Meru Peak in the Himalayas, a brutal and treacherous ascent, and also the backstories of the three hikers, Conrad Anker, Jimmy Chin and Renan Ozturk. Chin also co-directed and was the main cinematographer, and captures some stunning shots. What's fascinating is the tragedy in these men's lives, and I don't mean the trio's first unsuccessful bid up Meru that ended just 100 meters short. Anker's mentor died on a climb, and later his best friend died in an avalanche that hit them both. Ozturk went off a cliff while shooting mountain skiers at Jackson Hole, fracturing his skull and nearly dying. Chin miraculously survived a monster avalanche in the same place four days later. All of these stories are shown in retrospectives, and are just as compelling as the final attempt up Meru's infamous 'Shark's Fin' route. The film captures the mentality of the hikers, why they're so driven, their mentorship of younger hikers, and the ultimate trust they must have in each other. It seems like a crazy thing to do, but they're quite intelligent about measuring risk, extremely skilled at climbing, and stoically persevere despite extreme cold and very difficult conditions. It really makes the documentary feel complete, and I have to say, seeing them up on that narrow ridge at the end is inspiring.
Antonius Block
Super Reviewer
A focus on the men and not the mountain which is a draw back in this film. While the visuals are stunning, the men are...not so much. More National Geographic and less biopic.
John Ballantine
Super Reviewer
½
Superb mountain climbing documentary about the determination and skill needed to conquer Mount Meru. I was just thinking also that Explosions in the Sky's song, The Birth and Death of Day, would be a great movie song and I found it in this. Superb vistas and cinematography that shows the true grit and determination people go through to achieve their dreams.
Ian Walker
Super Reviewer
Meru Quotes
There are no approved quotes yet for this movie.