Meshi (Repast)
(1951)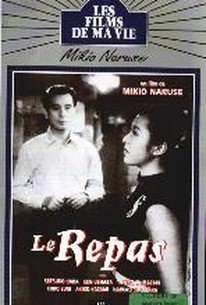 AUDIENCE SCORE
Critic Consensus: No consensus yet.
Movie Info
Based on popular Japanese writer Fumiko Hayahi's final novel, a condemning portrait of married life and women's position in Japanese society, Repast tells the story of Michiyo and Hatsunosuke, a married couple who, in the routine of family life, have begun to fall out of love. With no child to cement their bond, they are still free to question their marriage. Especially since it was a marriage not of convenience, but of love. While Hatsunosuke seems unperturbed, Michiyo fully realizes the growing distance between them and the anguish deeply pains her. Events come to a head when Hatsunosuke's attractive young niece arrives and Michiyo suspects her of making advances. Her heart broken, Michiyo confronts her husband with all of her complaints. Once again, he is uninterested and aloof and she flees his house back to her family. After a long period of depression and several total failures to begin her life anew, Michiyo meets with Hatsunosuke and they superficially patch up their differences. The film ends with Michiyo returning to her married home, forlornly staring out the train window. ~ Brian Whitener, Rovi
Critic Reviews for Meshi (Repast)
Audience Reviews for Meshi (Repast)
What an absolutely stunning film. Naruse shows he is an expert of restraint much similar to his characters. Whereas many other filmmakers would have leapt on teh chance to turn this story of marriage into some sort of sordid thriller Naruse tells it like it is. Setsuko Hara plays the wife who feels distant and suspicious of her husband but perhaps it is just boredom. Despite the inapproriate comments of his neice Hatsunosuke is nothing but faithful, he barely takes an interest in other women, though he is also distant and lacks passion towards his wife. It's a gentle but uncomfortably confrontaional tale of married life and how something meant to produce so much happiness can also feel like a prison.
Luke Baldock
Super Reviewer
[font=Century Gothic]In "Repast", Michiyo(Setsuko Hara), a housewife, lives in a suburb of Osaka, with her husband of five years, Hatsunosuke(Ken Uehara), a stockbroker. They were married in Tokyo and moved to Osaka two years later, following a job transfer. One day, their neice, Satoko(Yukiko Shimazaki), shows up on their doorstep unannounced from Tokyo, apparently trying to put some distance between her and her strict father. All through this, Michiyo feels rather dissatisfied with the way things are going in her life.[/font] [font=Century Gothic]Directed by Mikio Naruse, "Repast" is a glimpse into postwar Japan when social mobility was just starting to become more commonplace, even if the economy was stagnant with high unemployment. The main conflict in the movie is between modern and traditional attitudes. An episodic, meandering style definitely lessens any impact it might otherwise have had.[/font]
Meshi (Repast) Quotes
There are no approved quotes yet for this movie.