Message from the King
(2016)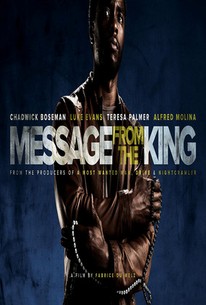 Message from the King Videos
Message from the King Photos
Movie Info
After losing contact with his younger sister, Jacob King arrives in Los Angeles looking for her. Within twenty-four hours he finds unsettling evidence of a life gone awry - sex, drugs and secrets in the sleazy underbelly of the City of Angels. Message from the King is the story of what happens in the next seven days.
Critic Reviews for Message from the King
Audience Reviews for Message from the King
½
You know, I was a person that used to say that South Korea was the land of a million revenge thrillers. While that, to me, still holds true, I find that it is also true for a lot of places in this world. I don't wanna say that making a revenge thriller is easy, because it is not, but the idea behind it is simple. Essentially, they want you to tell a story of someone who's been wronged (or someone related to the main character has been wronged) that you don't mind these people being killed in a horrifying manner. Well, really, the latter depends on whomever is making the film. Sometimes the villains' death are not in tune with whatever it was that they did. But that's neither here nor there. Moving on to this film, it brings up an interesting question. And, really, a lot of revenge thrillers bring up this question. That question is, if put into the same, would I react the same way? Would I make those responsible for hurting a loved one pay with as much misery and pain as they put me through? It's an interesting question to ponder. Until that day comes, and it never will hopefully, then we'll just live vicariously through films like this. One thing prior to that, I must say that Chadwick Boseman has a lot of potential to be a superstar. I might be wrong and my eye for people who'll translate to box offices success might be faulty, but he's clearly a very charismatic and a very talented actor. His appearance in the Black Panther movie will only, hopefully, take him higher. But that's neither here nor there, Chadwick really is one of the few reasons why this movie gets the rating that it does. His performance might be a little stoic at times, but I think it helps with the character that he is portraying in that he is trying his very best and damnedest to feel like he's in absolute control of the situation at all times. If he loses his cool he loses control and that's when things go to shit. That's not to say that there aren't a few scenes where he does lose his cool. But, again, I think his performance is such that, I believe, Jacob (his character) is working on auto-pilot for most of the film. And that's not a negative, that's just me elaborating on his character and his need to find out what happened to his sister and what trouble she got herself into. Operating on auto-pilot allows him a degree of control. It also allows him to be as calm and sensible, as much as is possible here at least. But, of course, the film is not simple. The answers aren't given to you on a silver platter. There's a large conspiracy at play here involving pedophiles, politicians running for office, film executives, drugs, etc, etc. And I think that that's the problem with this movie. While Jacob's motivations are always related to finding out those responsible for what happened to Bianca, his sister, I think the movie gets a little too 'elaborate' for its own good. And I understand introducing various characters all tied, some ancillary and some much more hands-on, to Bianca's death, but I do think the story is a little over-complicated. And I don't mean that it's difficult to follow, because it's never difficult to follow, I just mean that too many elements are introduced that feel like it's just a way to artificially extend the film's length. I do think the movie loses sight of what's important in trying to introduce various characters that were at this 'party' where a whole bunch of debauchery occurred. This brings up an interesting question and that is how Bianca managed to get her hands on proof of the shit that happened here, which is why she was offed in the first place. Like how did she come across this? Maybe they explained it and I just wasn't paying enough attention, but it's something to ponder. The casting is strong all around, though there's a few silly lines here (like when Jacob uses the movie's title after beating up one of the Balkans). But, by and large, the casting is very strong and I cannot complain in the slightest about that. The scripting is serviceable. I don't think there's anything new about this. There's nothing that breathes new life into this genre, but it certainly gets the job done. I do think that they rely on violence to overcome for its lack of originality. I mean that much is obvious. This really just ends up being an average revenge thriller. Certainly not the worst I've ever seen, but also not nearly the worst. It falls somewhere in the middle. It's fine to watch for 100 minutes, but it's not something you'll remember in the long haul, so, really, watch at your own risk.
Jesse Ortega
Super Reviewer
I'm a sucker for revenge thrillers, essentially all they really have to do is not suck and I'm on board. And Message from the King sure didn't suck. Even if it did, massive bonus points for the kid playing Payday 2.
Movies that star some very talented performers, but fail to make it to the big screen, usually end up on the shelves of video stores, disappearing very quickly, due to the fact that they were usually brushed to the sidelines for a reason. Message from the King is the latest film to receive that treatment, only Netflix was smart enough to pick it up. This is one of the rare films that was swept aside, but actually deserved a shot in the spotlight. This isn't a perfect film, but the performances, along with a very effective premise, made for a great experience. If you're looking for a good film to watch one night, here is why I think you'll enjoy your time with Message from the King. Travelling to Los Angeles in order to investigate his younger sister's disappearance, Jacob King (Chadwick Boseman) soon realizes that he has now found himself investigating her death. Knowing that he will never be able to speak to her again, he changes his tune from investigator to revenge-seeker. This is a story you've seen many times in the past, but when a well-written script and terrific performances can elevate it to seem fresh, that's all you can really ask for in the given scenario. This film is about the journey of Jacob and as you uncover elements of his past, the depth of the film increases, tenfold. What put it over the edge for me, was the fact that talented actors kept appearing throughout the film. From Luke Evans, to Teresa Palmer, to Alfred Molina, this cast is on another level. Each and every time this film presented intself with new talent, a new layer of story was added, and the fact that every core character was a world class actor/actress, really made for a compelling film as a whole. Message from the King is not only an effective and well-acted film, but the emotional core that is needed for a film like this to work, is also very well-done. I found myself completely invested in both Jacob and the characters around him (Kelly and her daughter in particular), because the film takes just enough time to allow for other characters to be developed, setting itself up for a satisfying conclusion. Although some moments may be a little unsettling for some viewers to take in, I found the graphic imagery to be needed, in order to fully allow the audience to connect with Jacob on a personal level. If you're someone who can allow yourself to take in a few graphic images, then I believe you will be sucked into this film as I was. There are some great fight sequences and as soon as the film seems to be slowing down to build a relationship or to give the audience needed information, it picks right back up with a chase or flashbacks to keep you interested. Never once did I find myself bored with this movie. It's solid run time of 102 minutes flies right by. In the end, Message from the King is the type of movie that was unfairly pushed around in order to find a company to release it. Luckily, Netflix now has possession and it's now available to stream worldwide. I highly recommend checking this film out whenever you have free time. This is a surprisingly well-written revenge flick with some very solid emotion and action sequences. My complaints would lie in the fact that some of the events throughout the film seem artificial. For example; when Jacob visits a dentist office, it plays out like more of a film than what would actually happen in reality. That is just a nitpick but it does stand out as a large flaw, because of the fact that it happens many times throughout the film. Message from the King is definitely worth your time.
Message from the King Quotes
There are no approved quotes yet for this movie.