Miami Rhapsody
(1995)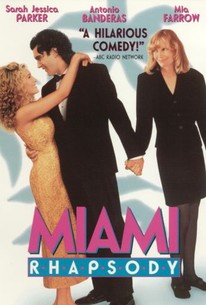 Movie Info
The discovery of marital troubles in her family causes a young woman to question her own upcoming nuptials in this clever romantic comedy. Sarah Jessica Parker stars as Gwyn, a bright, slightly neurotic advertising copywriter who is initially thrilled when her boyfriend Matt (Gil Bellows) finally proposes. Soon afterwards, however, she learns that her mother Nina (Mia Farrow) is indulging in an extra-marital affair with a handsome Latin stud (Antonio Banderas). This is only the first of several shocking revelations, as Gwyn soon learns of infidelity by her father (Paul Mazursky), brother (Kevin Pollack), and even newlywed sister (Carla Gugino). These indiscretions make Gwyn question the validity of the entire institution of marriage and doubt her own future. Director David Frankel, who also penned the screenplay, follows in the footsteps of Woody Allen in using introspective dialogue to detail the romantic troubles of a wealthy, neurotic Jewish family; practiced performances and a colorful use of Miami locations give the film its own personality.
News & Interviews for Miami Rhapsody
Critic Reviews for Miami Rhapsody
Audience Reviews for Miami Rhapsody
[i][b]The Love Letter[/b][/i] - Little more than a predictable love fantasy, this one has a few cute moments and a few hilarious ones from the always-funny Ellen DeGeneres. The film, though, at only 88 minutes, is a bit long. [b]** (out of ****) C [i]Maid in Manhattan[/i][/b] - Silly update of the [i]Cinderella[/i] story with J. Lo as a maid in a Manhattan hotel who falls for a lazy Ralph Fiennes. Boring! [b]*1/2 (out of ****) D+ [i]Mambo Italiano[/i][/b] - Silly, cliched gay love story. Paul Sorvino is fun, though. [b]*1/2 (out of ****) C- [i]Miami Rhapsody[/i][/b] - Cliches, cliches, cliches for sure, but there are some really funny moments and some good performances. [b]**1/2 (out of ****) B- [i]My Best Friend's Wedding[/i][/b] - I love this movie. The only reason it's not a 10/10 is because of some of the slapstick humor, which is taken a bit far at times. Otherwise, it's a fabulously acted, wonderfully atypical romance. I fell in love with it. [b]***1/2 (ou tof ****) A-[/b]
Christopher Lozier
This movie is one that I have remembered for years as a bad movie. I do not remember any details other than there is a wedding reception & drugs (I think). My criticism at the time was that the time I spent watching it is time out of my life I will never get back. That is rare for me with movies (I can find a reason why I like most any movie). Unfortunately, I would have to watch this movie again to write a specific review. I am not willing to do that yet because of the above paragraph, but I wanted to record this as a bad movie. I saw Gigli and am wondering if this movie was really better? My tolerances for movies has changed over the years and I think I now tend to be more critical based on what I gain (or lose) by viewing the material.
Jeffrey Timm
Miami Rhapsody Quotes
There are no approved quotes yet for this movie.
Discussion Forum
Discuss Miami Rhapsody on our Movie forum!