Midnighters
(2018)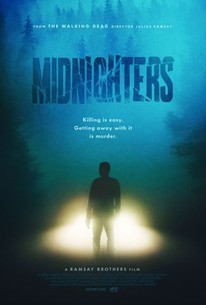 Movie Info
A New Year's night becomes a long day's journey into dread for one seriously unlucky couple in this wild-ride nerve-twister. On their way home from ringing in midnight on December 31, Lindsey (Alex Essoe) and Jeff (Dylan McTee) accidentally run down a man in the middle of the road. Things look bad when they panic and stash the body in the backseat. Things look worse when they discover that the stranger they hit had sinister intentions involving the couple and their family. And things go off the rails when a certain psychotic "Detective Smith" (Ward Horton) comes calling... The scarily gripping feature debut from The Walking Dead and Krypton director Julius Ramsay careens with hairpin twists and genre-defying surprises.
News & Interviews for Midnighters
Critic Reviews for Midnighters
Audience Reviews for Midnighters
½
Noir is a tough genre and I think it has been relegated to the lower budget market for quite some time now. In a world where your average multiplex movie costs over 100 million, a film like this struggles for existence. The film begins well and like every great Hitchcock film homage, it only gets complicated the further the film goes. If I had a gripe about the film, the performances a little uneven and the husbands arc wasn't overly convincing. The Ramsay team look to have bright future and you can see the Tv filmmaking shining through, not a bad thing in this modern era. They make the film work when it could have fallen to the side and failed miserably. There are quite a few tough scenes to watch here but the overall story works well and if you're a fan of the genre, you will find something here. 26/08/2018.
Brendan Nicholls
Super Reviewer
Midnighters Quotes
There are no approved quotes yet for this movie.