Mindhorn
(2016)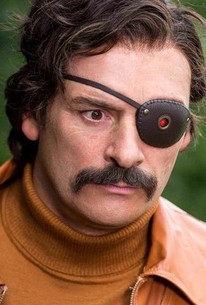 Movie Info
Washed-up actor Richard Thorncroft peaked with hit 1980s detective show 'Mindhorn', playing the titular Isle of Man sleuth with a rather unique ability. As a captured MI5 Special Operative, Bruce Mindhorn's eye was replaced by a super-advanced optical lie detector, which meant he could literally 'see the truth'. Mindhorn escaped and fled to the Isle of Man, to recuperate in the island's temperate microclimate, and became the best plain-clothes detective the island had ever seen... Decades later, when a deranged Manx criminal demands only to speak to Detective Mindhorn, Thorncroft returns to the scene of his greatest triumph for one last chance to reignite his glory days and professional credibility.
News & Interviews for Mindhorn
Critic Reviews for Mindhorn
Audience Reviews for Mindhorn
All comedy is subjective, but when it comes to dry British humour, it's always hit or miss for me. I'll start off by saying that this film offered enough jokes to make me laugh, which outweighed the misses, but Mindhorn is just another film where I feel it could've been handled so much better. This is the very definition of dry humour, so if that's not your thing, you might as well take this as warning to stay far away from this movie. Sadly, I'll probably never watch this movie again, due to the fact that I think I got the most out of the jokes it delivered. That being said, I do have quite a few positives to say about Mindhorn, so let's dive in. The plot is ridiculous but simple, an actor who is most famous for portraying the fictional television character Mindhorn, a 1980s detective, is recruited to help stop a convicted serial killer when the killer says he will only answer to Mindhorn, whom he believes to be a real person. The premise alone is hysterical, but the film takes a much more serious approach in telling this particular story. I found myself slightly bored throughout the majority of the film, due to the fact that the humour was almost too dry. That being said, when the laughs hit, they hit pretty hard and there are definitely a few gut-busters. Julian Barratt is easily the most likeable actor in the film, but he is upstaged by side characters that I found to be more interesting. The comedy was only present when he was interacting with others, leaving me needing more each time he was alone on-screen. In my opinion, Essie Davis' portrayal of Patricia Deville was the most enjoyable aspect about this movie. How her character was related to Barratt's Richard Thorncroft and how she helped give him the arc he deserved was what made this film watchable throughout the full 90 minutes. The core story is funny and the main character in Thorncroft has quite a few quirks, but the movie would feel incomplete without the inclusion of each side character. If it wasn't for the comedic aspect of this film, Mindhorn would be a complete train wreck, because going from comedic to dramatic in a matter of seconds isn't easy, but it's much easier when the film itself isn't to be taken seriously. I found myself chuckling in one instant and then wondering if I should be chuckling in another, which hurt my overall enjoyment of the film. I wasn't expecting anything amazing going into this movie, but I can confidently say that they could've done a better job in weighing the tonal shifts throughout the course of this movie. Still, there are some great laughs to be had here, so I can't complain too much. Overall, Mindhorn is the type of film that harkens back to productions like that of Monty Python and the Holy Grail or even the television show The Pink Panther. There are some truly hilarious jokes here, but the majority of them don't hit very hard for me. If done well, this type of humour is arguably the best out there, but I couldn't help but want more when this film ended. I enjoyed watching these characters and the premise itself, but it juggles the serious and comedic aspects so sloppily that I was taken out of the film on more than one occasion. Mindhorn is a decent film to watch once and you may find more enjoyment with a group of film fans, but this wasn't exactly what I was expecting it to be, which is this case wasn't a good thing. I had some fun with this film, but it's ultimately forgettable.
½
I'm gonna be completely honest here, I've always been more partial to comedies from Great Britain and Ireland. More the former than the latter, though that's not to say that the latter is a distant second. But I've found that the quote 'Pizza is a lot like sex. When it's good it's really good and when it's bad, it's still pretty good.' applies a lot to the comedies from the UK. That's not to say that I'm gonna overlook the faults in a comedy that just didn't end up being any good. Which brings us to this movie. Let's just get this out of the way first, I've never seen anything from The Mighty Boosh, though I've wanted to. So I have no idea how the troupe's comedic style is, if it resembled something more like sketches, like a Monty Python, or if the show (that aired for three seasons) had a consistent cast of characters. From what I can tell on Wikipedia, there was very little in the way of continuity. Characters that were killed off in one season would appear alive and well in another. I will say this that the transition from a series whose episodes last 30 minutes to a full-length film is never an easy one. And if you couldn't tell by the rating, the transition isn't made smoothly. Let's get this out of the way, I love the concept of this movie. I really do. A washed-up actor from the 80s, who still believes he's a major star, being called on by the police to reprise his most famous role (imagine a the Six Million Dollar Man type, except his eye is replaced for a lie detector) to help solve a murder investigation. Again, I really like this concept. It's a cool and clever idea. But, if I'm being perfectly honest, I found the movie to be completely and wildly inconsistent. It's definitely got its highs and lows. I think part of the problem is that, and I believe some of the negative (and even positive) reviews have pointed this out, this just feels like 30-45 minute TV special, not a full-length movie. I think there's, legitimately, enough material to justify a TV special. Because of that, I do think they stretch the narrative to be longer than it actually needs to be. They have a lot of time to fill and you can sense that struggle to fill up an 83-minute movie. Which is a shame, because I found the character of Mindhorn/Thorncroft to be entertainingly fascinating. This is a man whose career has gone to shit after his one real success and yet he deludes himself into thinking he's still a star. Name dropping celebrities that he does not know. Dealing with former co-stars who have gone on to have a wildly successful career. It's a character that I just liked, Julian Barratt played the role to perfection as well, it's just a shame that the story/comedy around the character of Mindhorn isn't as interesting as the character itself. Like I said, they stretch things out far longer than they need to and that's where the movie falters. There's also long stretches of time where the jokes just simply miss. And this movie throws a lot of shit out there, though not as much as, say, This Is The End, so it's obvious that not everything is gonna stick. And I can forgive them a few jokes here and there that fall flat, but there's a higher number of them here than should reasonably be expected. That's not to say that I still didn't find some entertainment in the film, because I did, but it's just not a movie that I would say is either consistently good or funny. A comedy can still be good even if it's not hilarious, but this is neither one nor the other. The cast is solid all around, no complaints on that end. But, again, the script just doesn't use the talents of these people to 100% capacity. I don't really know what else I can say about this movie that wouldn't just be repeating the same points ad nauseam. Let's just say that you get to see the best bits in the trailer, it really does not get any better than that. That might be a condemnation of the quality of this movie, but it's not. It's just a fact. This still ends up being a perfectly decent movie, but it's one whose execution does not match its ambition.
Jesse Ortega
Super Reviewer
Mindhorn Quotes
There are no approved quotes yet for this movie.