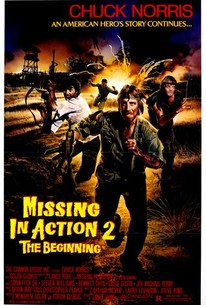 Missing in Action 2: The Beginning
1985, War, 1h 36m
2 Reviews
5,000+ Ratings
Where to watch
Subscription
Rent/buy
Rate And Review
Missing in Action 2: The Beginning Photos
Movie Info
Ten years after being captured by sadistic Vietnamese Col. Yin (Oh Soon-tek) in 1972, Col. James Braddock (Chuck Norris) and his men are still prisoners deep in the jungle. Resigned to being abandoned by his government, Capt. David Nester (Steven Williams) has become Yin's henchman, while the rest of the soldiers remain strong. Despite constant torture, Braddock refuses to sign a confession of cowardice, biding his time until he can escape and take revenge.
Audience Reviews for Missing in Action 2: The Beginning
Well if that title doesn't tell you all you need to know I don't know what will. Both of these films were filmed at the same time, back to back, but for some odd reason the powers that be decided to release the sequel first then this film as a sequel prequel. Why exactly I don't know as it makes no sense whatsoever, I don't think there were any issues so why muddle things is a mystery. This film simply tales the tale of how 'Braddock' got captured and held captive in Nam before breaking out and getting to the point we see him in 'Missing In Action'. Its all very straight forward and like the other film, very by the numbers step by step action flick fluff. Mind you this film is slightly more adult than the first film. Most of the plot takes part within the POW camp and shows us some mildly nasty stuff. The odd bit of torture, beatings, mock executions, real executions, torment, getting burned alive with flame throwers etc...it is a bit harrowing in a semi-harrowing kind of way. Nothing that will make you lose sleep, its not a dramatic epic true to life event flick, but its based on the reality of real Nam POW camps and does offer a touch of emotion. The evil sadistic POW camp leader is nicely portrayed by Soon Tek-Oh. Much like Drago in 'Delta Force 2' this film is saved by his smooth villainous ways, his almost charming tone of speech, wry smile and merciless manner. His henchmen soldiers are all your standard Vietnam war types if I can say that, they just appear very stereotypical to look at I guess. Same can be said for Chuck's boys, militant and loud mouthed yanks with blonde hair, blue eyes and the token black guy (who dies). As for Norris...well its business as usual with the headband, Uzi and his lumberjack looks. He says little and acts badly while doing it, but we don't ask that of Norris do we, we just want him to grunt stare and kill bad guys tamely. The film looks better than the first that's for sure but I'm starting to get bored of bamboo huts within green South East Asian jungles. Still we are given some more explosions, bigger ones this time and a more interesting array of deaths for various military personnel good and bad. Its still fun as we see Chuck wear down the evil Colonel and survive his torture tricks. It is more realistic than the previous film but overall it does also feel a bit of an excuse just to see Chuck take out an entire camp of bad guys...again. Still its on par with the original film in my opinion, the more adult approach is welcome adding some tension, the corniness of the first film has been cut back. Its also funny and hackneyed that when this film was made it was common practice that the goodie black guys all get killed off whilst most of the blue eyed white guys survive to fight another day, old movie cliches huh.

How can you decide whether a sequel is better than the original?? When the character and movie go further... or maybe establish a history or a beginning. Prequels are usually considered the pick of a series... the development, the story, the creation.... in this case, the beginning of the legend of Colonel James Braddock as the most infamous Vietnam prisoner of war. Braddock and his squad are captured at the height of the Vietnam war. Years after the war had ended, POW's become forgotten ghosts, abandoned to the sadistic and murderous Vietnamese, venting their fury against the Americans, or in some cases, forcing them to confess to war crimes to denounce the US worldwide. Colonel Braddock though refuses, and thus over the years watches his team shrink down to 4 men... and one turn traitor. Enduring taunts, violence, slave labor and torture, including the infamous rat in a bag scene, survival is main focus on his mind... until tricked by Commandant to confessing to war crimes and letting one of his men die of a drug overdose. It all comes to a head as Braddock makes his escape in leg chains... only to return and burn down the prison camp and the demons that inhibit it and in his mind and free the other prisoners. Dark, tense and a lot of realism thrown in amongst the B-grade set, it definitley is a movie to remember to my standards as far as action films goes, and one of Chuck's best. Enjoy!

Unlike the original, this tale of Chuck Norris and his platoon escaping from a savage Vietnam Cong P.O.W. camp. Most of it is typical war movie stuff: gunplay, explosions, sadistic captors, etc, but when Norris finally take on villainous Soon Tek Oh, it's on of the better fights I've seen him in.
See Details