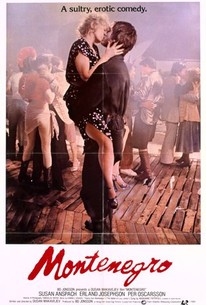 Montenegro
1981, Comedy, 1h 36m
16 Reviews
500+ Ratings
Rate And Review
Movie Info
A listless and unhappy American housewife in Sweden, Marilyn (Susan Anspach) becomes unsatisfied with her life and goes off the deep end, behaving erratically around her husband (Erland Josephson) and children. Accompanying her husband on a business trip, Marilyn misses her plane and meets a group of Yugoslavian migrants. They take her to Zanzi Bar, their nightclub of uninhibited love, and Marilyn has an affair with Montenegro (Svetozar Cvetkovic), a younger man.
Audience Reviews for Montenegro
The second half is very rewarding towards the patience held in the first one since Makavejev first makes sure to drown us into boring suburban wealth in order to justify the... let's call it "bored housewife Syndrome". From there, a bizarre and intentionally unrealistic journey of sexual liberation and artistic eccentricities lies ahead, all the time us being accompanied by a camera quality and a soundtrack that stink of the good-old 80s way too much (which is certainly a good thing). Yes, I'd debate that Akerman has constructed more profound and challenging essays about the genre but Dusan will always remain Dusan! 97/100

Upon hearing "Montenegro"'s thumbnail plot (essentially, "Bored Housewife Gone Wild"), I anticipated writer/director Dusan Makavejev -- creator of the insanely hedonistic "Sweet Movie" and "W.R.: Mysteries of the Organism" -- depicting all sorts of unspeakable debauchery. Given these expectations, "Montenegro" is surprisingly tame. Sure, there is a sex act in a mound of grain, a suggested three-way between unlikely partners, a shocking use of poison, a friendly man with a knife embedded in his forehead and an unforgettable burlesque dance (the girl courts a toy military tank with an "erect" vibrator attached), but otherwise? Appalling table manners are about as bad as it gets. Toss in a contraband pig carcass and a grandfather who thinks he's Buffalo Bill, if you like. Regardless, I doubt the film had any trouble avoiding an "X" rating, even though the story sounds like a classic pornography template. Susan Anspach is Marilyn Jordan, wife of a wealthy but inattentive businessman (Ingmar Bergman stalwart Erland Josephson). Obviously frustrated with a pampered lifestyle where her biggest problem is a lynx coat's excessive shedding, she has been acting out in strange ways. When she spontaneously decides to accompany her husband on a short trip, there is an unexpected security issue and she misses the flight. Detained at the airport, she finds herself bonding with some Yugoslavian gypsies, who end up whisking her away to their odd, isolated compound. The troop's raucous celebrations are a refreshing novelty, and she releases her inhibitions. The results are alternately delightful and disturbing. Bless his warped heart, Makavejev remains cheerfully tasteless and clumsy as a director. The story takes far too long to heat up (about 45 minutes), and the musical score is typically goofy. There are extreme facial closeups, awkward insertions of animal footage (it's, like, metaphorical) and plenty of overacted scenes (particularly in the case of Per Oscarsson's effete psychiatrist). As for time-dated content, we also get two ABBA tunes and some awful '70s perms. Still, the film's ending is so good that you'll forgive most of the earlier mishaps.

Crazy, crazy, crazy lady, and based on a true story to boot.
See Details