Mosquito
(1994)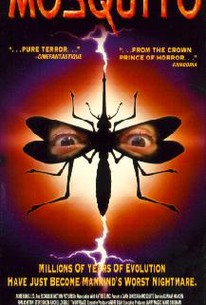 Movie Info
A group of unsuspecting campers are faced with a threat from which no amount of bug spray can protect them in this sci-fi/horror thriller. An alien spacecraft crash-lands in a state park near a lake, and several hungry mosquitoes feed on the blood of the deceased spacemen. They soon mutate to many times their normal size, and Megan (Rachel Loiselle), a biology student, and her boyfriend Ray (Tim Lovelace), are startled when a bug crashes into their windshield -- a mosquito the size of a bald eagle. Megan and Ray soon join forces with Parks (Ron Asheton), the bumbling park ranger; Earl (Gunnar Hansen), a survivalist with a criminal past; and his pal Junior (Mike Hard), to do battle with the swarm of ever-expanding bugs. Rock fans note: Ron Asheton was guitarist with legendary proto-punks Iggy and the Stooges and penned a new song for the soundtrack, while Mike Hard was the lead singer with the group The God Bullies.
Critic Reviews for Mosquito
All Critics (5) | Fresh (3) | Rotten (2)
It's a bad film, but it leaves you with some amusing stings.
It delivers giant mosquitoes sucking on humans regardless of its limitations, and amounts to a very memorable guilty pleasure.
Audience Reviews for Mosquito
A film for true lovers of cheap and degrading entertainment. Only in the dark depths of cheese can you find a film where mosquitoes suck the blood of an alien that has crashed only to grow giant. Starts off as a kind of slasher, before speeding into a chase and ending Night of the Living Dead style. Gunnar Hansen does well, even if his presence is just to build up to him holding a chainsaw. The effects are charmingly old school, looking stop motion, the blood drain sequence is one of the best reminding me of Raiders of the Lost Arc. The eyes pop out before exploding in a very cartoonish way. The acting is fairly bland and the cheapness does get tiresome towards the end but it's all worth it. Dodgy lines, dodgy effects, dodgy everything. Impressed it sells on eBay for over $100 on DVD.
Luke Baldock
Super Reviewer
Mosquito Quotes
There are no approved quotes yet for this movie.